"The best way to capture moments is to pay attention. This is how we cultivate mindfulness. Mindfulness means being awake. It means knowing what you are doing."
– Jon Kabat-Zinn
The morning is glorious. I'm up early, alone. As the sun rises over the quiet lake. I've got my legs up on the pier, balancing my notebook and coffee next to me. The sun is warms my face and the breeze blows down my neck thanks to my newly cropped off hair, just cool enough to be glad I wore my sweatshirt. Wild bunnies and chipmunks scurry in the bushes next to me, undisturbed by the water skier gliding by. The waves lap gently against the shore; paddleboarders and kayakers are my only human companions, and they appear as intoxicated by their surroundings as I am.
It honestly couldn't get much more perfect for an introverted-nature-loving-writer.
This is what summer should be like – distractions including only a jumping fish, the glitter of the rising sun on water, and the slight smoky scent of bacon wafting from down the road.
This moment is mine – simple and free for absorbing every little bit. It didn't cost me anything, just the price of being awake, rising early to show up and experience it.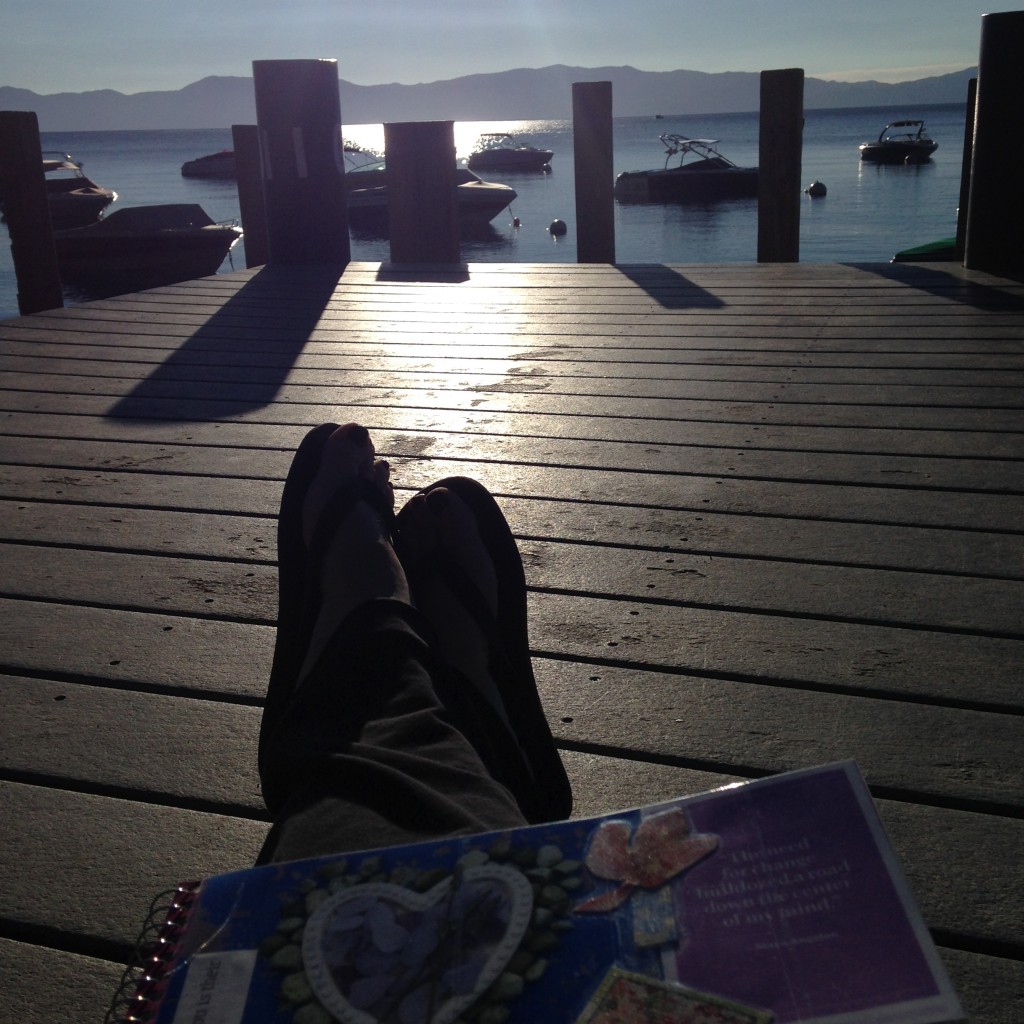 My writing over the last four years has evolved into an exercise in capturing moments – the intenseness, the frustration, and the beauty of loving fiercely, thinking deeply and teaching audaciously. As simple as it sounds, it truly has been anything but. Trying to capture the intenseness of the experiences of my life, endeavoring to scribble the sights and sounds and smells to share with an  unknown audience challenges me in such an acutely intriguing way. Snatching photos of moments to enhance my words has unlocked my view of what can be contained in a frame, forcing me to stop and think and consider what is around me.
It is forcing me to pay attention.
I breathe deeply, grateful to be here today.  As I approach 50 I feel a shift in my gratitude practice – it has become a slowing, a releasing of what is unnecessary, hurtful, and holding me back. Recently, a teacher friend asked me how long I thought she'd be able to keep up her energy for teaching. As I thought about it, I realized that it isn't the energy level that changes – it's the level of energy I want to use in different areas of life that changes. The more mindful I become to the moments around me, the more mindful I become to how I give of my time. I'm becoming selective and selfish and miserly with my time and energy, and at this point in life, I'd rather spend two hours soaking in the morning sun on this pier, writing and sipping coffee and thinking about this huge, wide Universe and this one wild life I've been given than just about anything else.
And I realize I'm on summer vacation now. I fully understand the gift of having a morning on a pier, the ability to not think about students and lessons and the outside life. It's not the vacation energy I am so infatuated with. It's an energy balanced by the peacefulness of aging, of being young enough to still settle in on the wooden dock, feeling the warm wood under my legs. To know all I have is all I need. To trust that my kids will be OK, that my husband will be well, and that my teaching will provide me with the means to fill another area of my life that's opening up and calling for attention.
It's an energy pushing me to pay attention, to write just for me while hopefully offering a glimmer into some part of life that needs to open up for you, too. Maybe this moment you're suddenly paying attention to somewhere you're stuck, or scared, or maybe you and I can find we're kindred spirits-another soul who finds joy and happiness in thinking deeply, loving fiercely and teaching audaciously. Someone who doesn't give a fuck about trying to impress you or do the things women are expected to do. Someone who wants her words to match her actions, and for her children to live fully and help make the world a more awesome place.
Someone who wants her life to matter.
Toni Morrison writes, "At some point in life the world's beauty becomes enough. You don't need to photograph, paint, or even remember it. It is enough." I think I know what I'm doing now.
It is enough to just be here on this dock, at this moment, with the breeze blowing the pages of my spiral notebook and the sun blazing in my eyes, casting shadows as I write. This moment is too blinding to photograph. It's just me, here, paying attention and capturing its beauty to share with my kindred spirits.