I changed majors three times in college: first business (what was I thinking?!), then journalism (on the right track), and finally English. I spent years floundering through courses, panicking in exams and wondering if I ever would find my heart's calling.
I put a tremendous amount of pressure on my seventeen-year-old self to have all the answers, and when I couldn't figure it out, when I lost my way and made mistakes, I spiraled down and hit bottom. I'm a first born to two first born parents. I was used to being successful. I was used to leading the way, and I definitely wasn't sure what to do when life didn't work out the way I thought it should.
So 22 years after I graduated, after a marriage and two children and 20 years of teaching, I began to forgive myself. I began to realize that just because I hadn't followed a plan for my college and my career – just because I had stumbled into teaching after graduation – didn't mean that I wasn't on the right path for me. I realized that while mothering and teaching brought me joy and happiness and fulfillment, there was still room for more.
I forgave myself for making mistakes in college, for trying to parent 'by the book' when it wasn't the right plan for my child. I forgave myself for being a working mom, for not being enough for everyone. I told my inner critic to shut up and step aside.
I forgave myself and forgave fate for the obstacles life had thrown at me, and I started to write again.
That was June, 2011 when I took responsibility for making my dreams come true – all of them. I gave up trying to come up with reasons why I couldn't write and just started putting stories together, and I found that the more I wrote, the stronger I became. I found that my inner critic became my muse, and unleashed words to the world that had always found safety locked inside journals. When I forgave my life for being what it was, I began to create my life for what it is.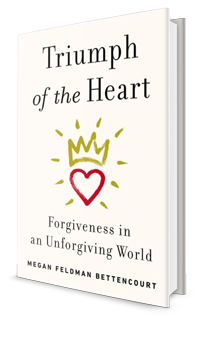 I've been reading Megan Feldman Bettencourt's new book, Triumph of the Heart: Forgiveness in an Unforgiving World, and through her words I've begun to realize just how miraculous this transformation of forgiveness really is. As a journalist, Megan's journey brought her to a multitude of people with transformative stories of forgiveness and piqued her interest in the human capacity to forgive and whether it can really help us change our lives. As a teacher, I'm witnessing our school district implement the practice of restorative justice as an addition to our discipline policy. I've noticed the difference it has made when we bring children and adults together and walk them through a process of dialogue, discussion and determination of other's feelings. The power of children to forgive each other is evident; a forceful practice that, if adopted by more adults, would unleash a flurry of creativity and problem solving into our world.
I'm happy to be able to host a giveaway for Megan's book – I'm hopeful that by spreading her words I'll help someone else unlock their capacity to forgive and help create a kinder, more understanding world. Enter to win by leaving a comment, and to increase your chances, tweet, like and follow mamawolfe on Facebook and Twitter! Winners will be chosen on September 24, 2015.
a Rafflecopter giveaway