My favorite books in 2018 were…
I read 58 books in 2018.
I feel pretty good about that – not just because I passed my Goodreads goal (I do so like a challenge), but mostly because I pushed myself to read a VARIETY of books this year.
Change is good, right?
It's been part of building my reading community
I've failed at IRL book clubs, so my reading pals have been mostly virtual – on Goodreads, Instagram, and Facebook. I'd love to connect with you there if we aren't already.
You can read my best books list here from 2017. If you'd like to read the best books I read in 2016 click here, and for more best books recommendations click over to 2013 and 2014 favorites posts. I've also written a Books I Love post and would love to connect with you on Goodreads to share more about reading.
I'm happy to share my favorite books from 2018 with you!
Becoming by Michelle Obama
When I can read a book that feels like the writer is speaking directly to me, even when our experiences seem vastly different, I know I've found a gem. And the surprising thing about this book is that as it turns out, our stories are more alike than they are different. 5 stars.
Georgia: A Novel of Georgia O'Keeffe by Dawn Tripp
I have friends who shared mixed feelings about this one, but overall, I enjoyed the life story of this American master…it was as much a revealing of a woman's journey towards self as it was about her art. 4 stars.
The Snow Child by Eowyn Ivey
Oh, this book…Alaska 1920, set in the wilderness, in the snow. Just the right blend of history, romance, magical realism and the quest to know the balance between over and under parenting…poetic. 5 stars.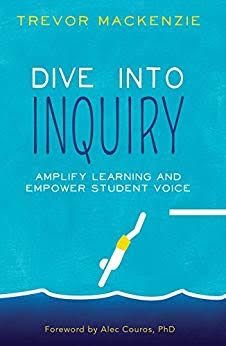 Dive Into Inquiry: Amplify Learning and Empower Student Voice by Trevor MacKenzie
Books written by awesome teachers to help transform our teaching from 'good' to 'best' – thinking about thinking fascinates me! 5 stars.
Tell The Wolves I'm Home by Carol Rifka Brunt
Such a beautiful and heart-wrenching story. Those who lived through the 1980s AIDS epidemic will remember the fear and ostracism…and those friends we lost. 5 stars.
When They Call You A Terrorist: A Black Lives Matter Memoir by Patrisse Khan-Cullors
A powerful read – what you don't hear about the real stories that led up to the Black Lives Matter movement. Honest, raw and beautifully told memoir. 4 stars.
Lilac Girls by Martha Hall Kelly
Wow – I loved this one! The author wove three narratives of the true, parallel stories of a NY socialite activist, a Polish concentration camp prisoner who was one of the famous 'Rabbits' of WW2, and a German Nazi doctor. So important to remember the atrocities and keep them from being repeated. 5 stars.
Refugee by Alan Gratz
Wow. What a book. I read this aloud to my 7th-grade students as part of the Global Read Aloud project – but I think EVERYONE should read it. Powerful three-part narrative sharing the refugee stories of Nazi Germany, 1994 Cuba and 2015 Syria. 5 stars.
Passionate Readers: The Art of Reaching and Engaging Every Child by Pernille Ripp
If you're at all interested in learning about engaging readers, check out Pernille's book. It's so real, so direct, and so inspiring. I had the pleasure of talking with her at the NCTE conference in Houston last November, and she truly embodies the image of a passionate reading teacher. 5 stars.
The Art of Communicating by Thich Nhat Hanh
Learning to connect my personal peace with the world I create outside myself was a huge takeaway from this book. Highly recommend for everyone wanting to make the world a better place – and super useful for teachers and parents. 5 stars.
The Four Agreements: A Practical Guide to Personal Freedom by Miguel Ruiz
This one was actually a re-read for me, but since I'm older and wiser it meant something different than the first time. I found myself cheering the areas of life where I'm using some of the agreements, and reminding myself that I can always do better. Super helpful for teaching, too. 5 stars.
I'm Just Happy to Be Here: A Memoir or Renegade Parenting by Janelle Hanchett
When you watch blogger friends write and write and write and then wham – they publish a real life paper version – it's something super special. And then when it's this real, this WOW, this amazing…Janelle's memoir isn't for the faint of heart. But man, can she tell her story. 5 stars.
My Absolute Darling by Gabriel Tallent
This book was heart-wrenching, beautifully written, and one of the most difficult books I've read. Oh, how I could see Turtle…in the strength of children who endure so much more than they should ever have to. This book is epidemic difficult to read and not for a reader who can't handle having Turtle's painful story linger in their mind. 5 stars.
Glitter and Glue by Kelly Corrigan
This book caught me by surprise. I wasn't expecting to like it this much, and I rarely take the time to read an entire book in one sitting. Glitter and Glue is the kind of book I'd like to write but am not sure I could. It's as much about becoming a mom as it is finding out how much of your mom you have become. And that's a good thing. 5 stars.
Other books I enjoyed in 2018:
A Year of Daily Joy by Jennifer Louden
You Are A Badass by Jen Sincero
A Clearing in the Wild by Jane Kirkpatrick
Caleb's Crossing by Geraldine Brooks
Coco Chanel by Susan Goldman Rubin
The Woman in the Castle by Jessica Shattuck
An Invisible Thread by Laura Schroff
A Boy Called Bat by Elana Arnold
A Fugitive in Walden Woods by Norman Lock
The Orchardist by Amanda Coplin
Simon v. the Homo Sapiens Agenda by Becky Alberalli
The Book Whisperer by Donalyn Miller
An American Marriage by Tayari Jones
Grading Smarter Not Harder by Dueck Myron
What She Left Behind by Ellen Marie Wiseman
The Death of Mrs. Westaway by Ruth Ware
A Note Yet Unsung by Tamera Alexander
Inquiry Mindset by Trevor MacKenzie
Peak by Roland Smith
A Beauty So Rare by Tamera Alexander
Orphan Train by Christina Baker Kline
Amal Unbound by Aisha Saeed
A Lasting Impression by Tamera Alexander
The Butterfly Collector by Dot Hutchison
Home by Toni Morrison
All The Missing Girls by Megan Miranda
The Last Camellia by Sarah Jio
The Married Girls by Diney Costeloe
The Girl With No Name by Diney Costeloe
And a few more favorite books in 2018:
Beneath a Scarlet Sky by Mark T. Sullivan
The Daughter of Union County by Francine Howard
The Winter Guest by Pam Jenoff
Between Shades of Gray by Ruta Sepetys
The Art of Stillness by Pico Iyer
The Tuscan Child by Rhys Bowen
At The Water's Edge by Sara Gruen
The Secret Wife by Gill Paul
Milk and Honey by Rupi Kaur
Salt To The Sea by Ruta Sepetys
Truth and Beauty by Ann Patchett
Downfall by JA Jance
The Perfume Collector by Kathleen Tessaro
The Paris Wife by Paula McLain