We are still fighting the battle with AIDS. It was the wake-up call to my generation, those in the 1980s and 1990s who first started dying – quickly, painfully, tragically – from AIDS.
Today our children know about this evil disease and have overcome so much of the stigma attached to living with – and dying from – AIDS. But still, far too many are suffering in 2019.
Today, according to the World Health Organization, "Of the 37.9 million people living with HIV at the end of 2018, 79% received testing, 62% received treatment, and 53% had achieved suppression of the HIV virus with reduced risk of infecting others."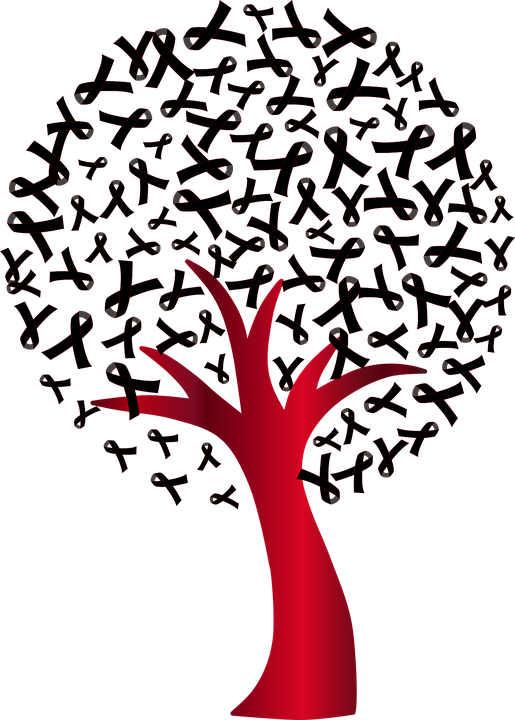 That is HUGE progress. But there's still SO much to do. In our classrooms, we can start by talking and reading about stereotypes. Gender issues. Sexuality. We can bring a human face to AIDS – sharing biographies of people, both famous and just like us, who are living or have lived and died with AIDS.
Some free ideas
Use this link for downloadable materials to help educate our children.
Why AIDS research is important to me
In 1991, I was student teaching and looking for a permanent job. I wanted to teach middle school, and met Steve – and I had no idea that this man, who recruited me to start a 'technology grant' school, had AIDS. It was the early 1990s, and AIDS wasn't mainstream. It was a secret. In education, no one was 'out', and certainly no one would reveal they were HIV infected.
Steve didn't look sick or act like he was dying. In fact, he never told us. He just disappeared from work for one year. We didn't know what was wrong. I wondered why he was not on campus; it was unusual for a man with his drive to teach to just not show up.
And one day when he came back to visit, we figured it out. It took one look to see the lesions, the weight loss, the look of death.
And then he died.
Thank you, Steve, for taking a risk with me. I was young, eager, and enthusiastic. You gave me a chance. I think you'd be proud of the teacher I've become. I've never forgotten you, or your infectious laugh, or your love of the strange-but-contagiously-addictive middle school human. I wish you were here.
HIV continues to be a major global public health issue, having claimed more than 32 million lives so far. However, with increasing access to effective HIV prevention, diagnosis, treatment and care, including for opportunistic infections, HIV infection has become a manageable chronic health condition, enabling people living with HIV to lead long and healthy lives.
There were approximately 37.9 million people living with HIV at the end of 2018.
As a result of concerted international efforts to respond to HIV, coverage of services has been steadily increasing. In 2018, 62% of adults and 54% of children living with HIV in low- and middle-income countries were receiving lifelong antiretroviral therapy (ART).
A great majority (82%) of pregnant and breastfeeding women living with HIV also received ART, which not only protects their health but also ensures the prevention of HIV transmission to their newborns.
More AIDS data:
However, not everyone is able to access HIV testing, treatment, and care.
Due to gaps in HIV services, 770 000 people died from HIV-related causes in 2018 and 1.7 million people were newly infected.
In 2018, for the first time, individuals from key population groups and their sexual partners accounted for over half of all new HIV infections globally (an estimated 54%) in 2018. For eastern European, central Asian, Middle Eastern and North African regions, these groups accounted for around 95% of new HIV infections.
Key populations include men who have sex with men; people who inject drugs; people in prisons and other closed settings; sex workers and their clients; and transgender people.
In addition, given their life circumstances, a range of other populations may be particularly vulnerable, and an increased risk of HIV infection, such as adolescent girls and young women in southern and eastern Africa and indigenous peoples in some communities.
Increased HIV vulnerability is often associated with legal and social factors, increased exposure to risky situations and creates barriers to accessing effective, quality and affordable HIV prevention, testing and treatment services.
Over two-thirds of all people living with HIV live in the WHO African Region (25.7 million). While HIV is prevalent among the general population in this region, an increasing number of new infections occur among key population groups.
AIDS diagnosis/treatment:
HIV can be diagnosed through rapid diagnostic tests that can provide same-day results. This greatly facilitates diagnosis and linkage with treatment and care.
There is no cure for HIV infection. However, effective antiretroviral drugs (ARVs) can control the virus and help prevent onward transmission to other people.
At the end of 2018, an estimated 79% of people living with HIV knew their status. 62% were receiving antiretroviral therapy (ART) and 53% had achieved suppression of the HIV virus with no risk of infecting others.
In June 2019, 24.5 million people were accessing antiretroviral therapy.
Between 2000 and 2018, new HIV infections fell by 37% and HIV-related deaths fell by 45%, with 13.6 million lives saved due to ART. This achievement was the result of great efforts by national HIV programs supported by civil society and international development partners.