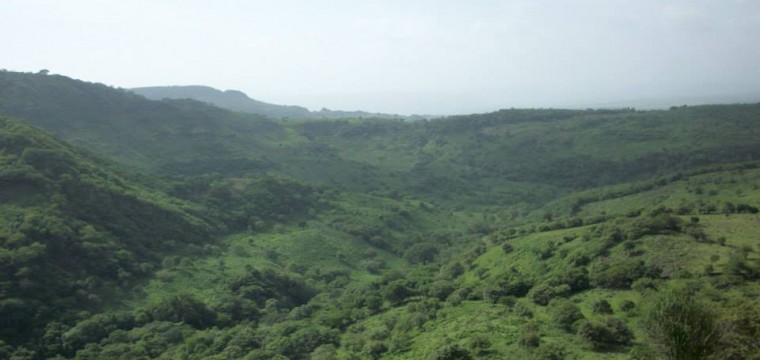 The wide, green valley spread out in front of me, bordered by craggy eruptions of hillside left over from some volcanic afterthought of long ago. The smoke tickled my nose as I gazed out, scanning for any sign of humanity. As far as I could see, not a road, building, tower, powerline or semblance of society was in sight. I was looking for what I knew to be real, not what really was.
At this precise moment I was alone, a feeling not often experienced by a mom, teacher, and wife. My children were somewhere nearby, but the vegetation masked any sign of company. I felt the stillness, the quiet only punctuated by the occasional crowing of a rooster or barking dog. Everywhere I looked was green, still, and lush.
The first time I heard about a volunteer trip to Nicaragua my attention was piqued. My life, up until then, was ridiculously scheduled and predictable-as predictable as a mom with two kids and a full time job can be. Adventure travel had ceased with the post-college backpacking-around-Europe-with-my-boyfriend escapade, and my world, although rich and full and satisfying, had taken on a somewhat banal existence. My children were ready to explore. I was ready to explore. The world was out there, and I needed to be in it.
Nicaragua wasn't a place I had any special attachment to.  I could have gone any myriad of places, but as fate would have it, we landed in a country vast and untouched by modern hands. In Nica, no one has the latest model car or cell phone. Clothing is dated and faded, yet the people take extreme pride in their appearance. Wide grins, open arms and gentle spirits pulled me in, enveloping me with kindness. I found myself feeling safe in an unsettled space, surrounded by unfamiliar language and customs. Food, shelter and stories were eagerly shared despite our meager surroundings. It didn't seem to matter where I came from; I was there, with them, in the moment. That was all that mattered.
Every day I scrutinized my surroundings with the eyes of an outsider, sure that the moment would come when my guard would go up. Acutely aware of my status, I attempted to melt into the backdrop and become one of them. I wondered how I would survive in their world, so unaffected by the 21st century. Far and wide the verdant landscape spread, lush and green, shrouding what should have been obvious to see. Day by day I found myself settling into the daily rhythm, following the beat of the culture around me. I was stripped of my shell, my core exposed in a way I found frighteningly unprotected yet blissfully liberating.
The pull of Nicaragua altered my former shy and timid inner child into a woman no longer afraid to take risks, to step into the world and seek out the unexpected. The pull of Nicaragua transformed me, like a soldier burning to fight an unknown enemy or discover a place far beyond their imagination. The pull of Nicaragua liberated me, helping me discover what was real.
This post was inspired by The Cartographer of No Man's Land by P.S. Duffy. Angus enlists in the Nova Scotia WWI regiment and travels Europe to search for his missing in action best friend and brother-in-law. Along the way Angus discovers more than he ever wanted to know.Join From Left to Write on November 14 as we discuss The Cartographer of No Man's Land.  As a member, I received a copy of the book for review purposes.
Related articles