Greetings from Calistoga, California!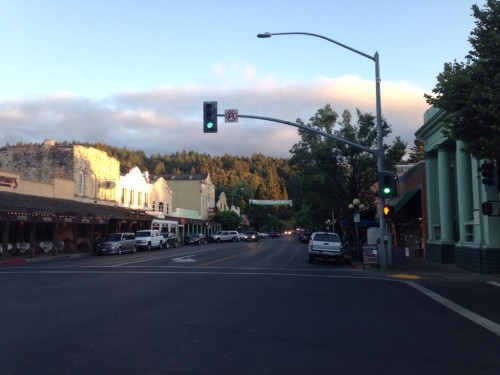 Most people think of the Napa Valley for wine, of course, but there is SO much more there than driving around doing tastings. Quaint towns such as St. Helena, Yountville, Healdsburg, Sonoma and Calistoga each offer chances for a romantic weekend spent riding bikes, walking the town, antique shopping, eating our unbelievable fresh northern California produce, and most of all, relaxing.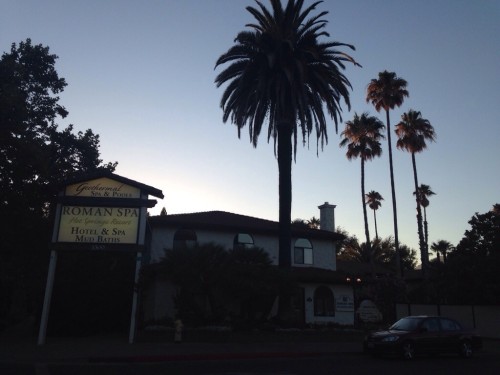 Have you ever been somewhere and immediately had that feeling that this will be a place you come back to over and over again?
That's exactly how I felt when I first slipped into one of three mineral pools at the Roman Spa Hot Springs Resort in Calistoga, California. Bliss. Perfection. And I instantly knew that this was going to be an indulgent 24 hours and that, yes, I would definitely be back. Calistoga is one of those tiny towns that's off the radar of most people, but since it's divinely close to my home, it's an easy day or overnight trip. For us, a once-a-year overnight-without-kids is about all we can manage with our schedules-last year we had a great trip to Healdsburg!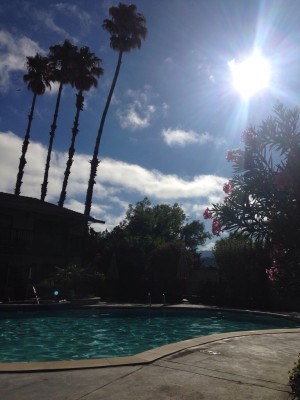 The Roman Spa isn't an over-the-top fancy schmancy kind of spa; it's clean, comfortable, quiet and if a girl wanted to, she could indulge in all the spa-type treatments…but me? I'm perfectly just happy indulging in what The Roman Spa is best known for – their mineral pools. Their website describes The Roman Spa as " A hot springs paradise of invigorating waters intimately set among flowering Mediterranean gardens, private patios, splashing fountains, and a staff dedicated to your ultimate relaxation and pleasure. This is the perfect Calistoga hotel and spa to explore the wine country, stroll through Calistoga, sample Napa Valley's best restaurants, or pamper yourself with intimate spa treatments" and I'd have to agree.
One of my favorite spots, after soaking in one of the three mineral pools, was right here! I preferred the outdoor pool, which is kept around 94 degrees-perfect to float around, book in hand, and feel the minerals working their magic. For those who enjoy the heat, there is an indoor pool kept around 100 degrees, and an outdoor HOT jacuzzi that hovers around 105!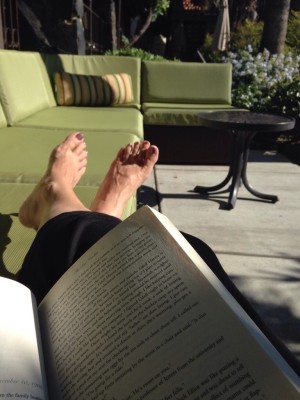 I found it super relaxing to sit in the shade and read – I finished L.Y. Marlow's great World War 2 love story, A Life Apart, while I was there!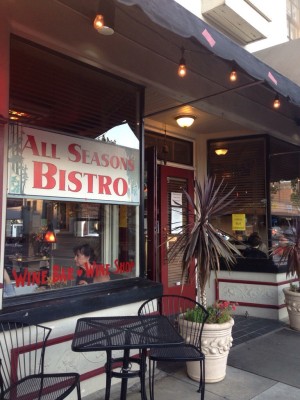 Calistoga has basically one main street, but it is chock-full of fine dining restaurants, cafes, and cute bistros like the one we chose for dinner, All Seasons Bistro. I always check Yelp when I travel for reviews and ideas, and this place came so highly rated we knew it would be perfect. It surely didn't disappoint…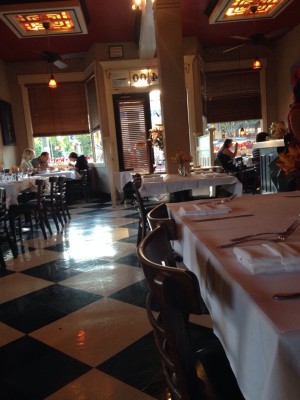 Since it was a weeknight, we had our choice of seats. We wanted to be right in the middle of the action of this quaint little spot. I loved the black and white tile floors, the RED ceiling, and full, old fashioned bar running along one side.
To start, I had one of the most delicious salads ever – their roasted beets, organic mache and arugula, with shaved pickled fennel, feta cheese, toasted pistachios, and citrus vinaigrette. Oh-my-goodness was it good! The red and gold beets were thinly sliced and placed on the bottom of the salad like a little treasure! The shaved fennel was just subtle enough to add a tang, and the light dusting of feta added a creamy touch. It seriously would have been enough for a meal in itself, but there was so much more to choose from!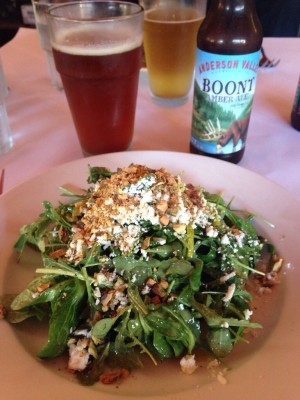 One of their most highly rated plates is the risotto with spring vegetables, and I can see why. The risotto was perfectly al dente, the sauce gently coating each grain with yummy goodness. The veggies were crisp and fresh, adding gorgeous color and texture. I could have eaten the whole plate; well, I did share a little…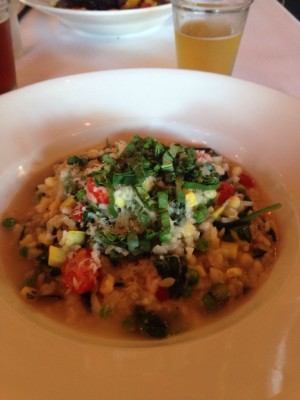 John went for the braised lamb shank served over creamy polenta, a touch of braising juices, Swiss chard, crispy shallots, and just a sprinkling of pomegranate seeds to give a little burst of happiness in your mouth. Decadent. He loved every bite!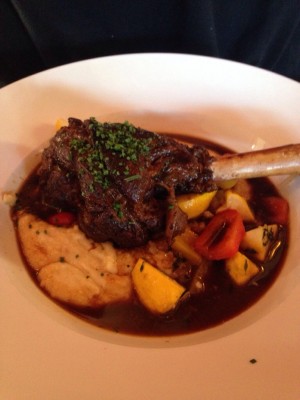 And yes, there's always room for dessert…as long as you have time to take a long walk afterwards! I couldn't resist their specialty: warm dark chocolate torte served with housemade cookies and cream ice cream, topped off with a 'drizzle' of rich, fudgy chocolate sauce. When we cut into the torte, the warm fudge sauce just oozed all over the plate, making one gooey, chocolatey ball of yum. Yep. As good as it was, we could hardly finish it.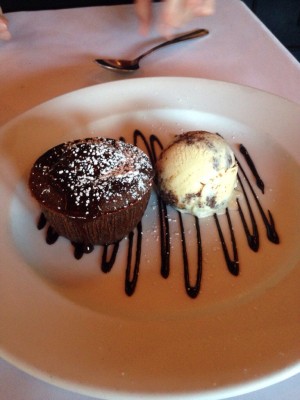 After a walk, a nightime swim and a solid sleep, it was time for breakfast. Calistoga is kind of sleepy, but we found a 'traditional' diner, Cafe Sarafornia. According to their website the story of their name is that "California's first millionaire—Sam Brannan—bought up the geyser lands in the upper Napa Valley, on the prospect that it would be a great place to build a resort for his well-heeled San Francisco friends. When asked what how he intended to accomplish this feat while co-imbibing with said friends, Mr. Brannan was purported to have said, "I'm going to make it the Calistoga of Sarafornia!" (what he meant to say was the "Saratoga of California" after the then world-famous Saratoga Springs in New York). Hence the name of the town, the name of the diner."
I like little trivia bits like that.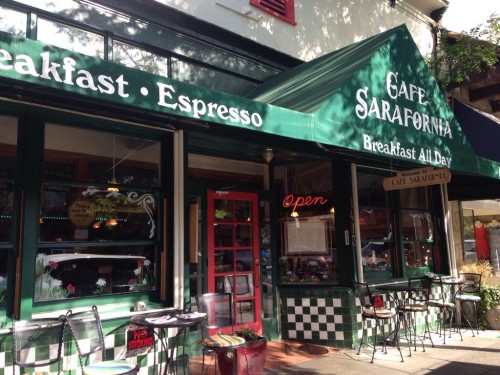 We managed a light breakfast…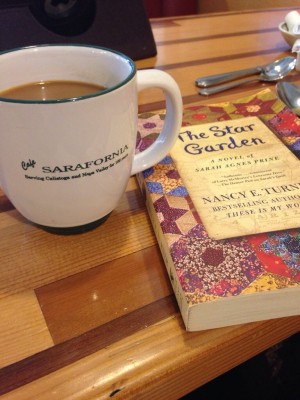 …because we were heading for a morning of mineral baths, reading, relaxing, and then LUNCH in Napa on the way home!
We found this little treasure on Yelp as well – it's called Melted, and their tiny cafe specializes in sandwiches-melted, of course! This one is called "It's Been A Long Time Cousin", and after one bite we knew why the hostess asked us if we like it HOT! WOW! Roasted chicken breast, jack cheese, habanero salsa with a side of pickled okra all on this crispy waffle type bread…amazing. Oh-and a cup of warm tomato soup for dipping, too!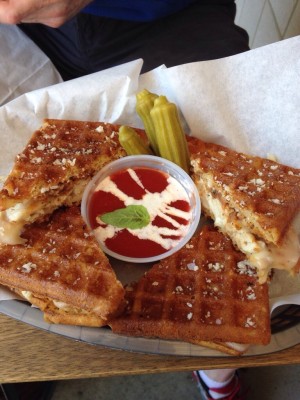 The much milder "Bread Crumb Trail' featured turkey, Jarlsberg cheese, candied yams, cranberrOh and chive aioli, all on that mysterious waffle bread…how do they do that?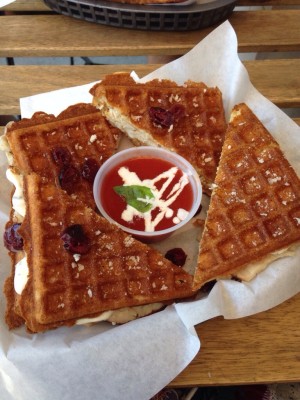 And, sigh, after a nice lunch on their patio, it was back home. 24 hours of soaking, reading, relaxing and EATING sure did a body good!
Read about more beautiful hot springs in California here.

Calistoga on Dwellable
Related articles
Related articles