In 2013, I set a goal to increase my reading this year, despite all the other events that take up my spare free minutes. I met my goal, and have some great titles to share with you! Thanks to all the wonderful authors that shared their stories with me this year – here's to 2014 and many more great books!
January, 2013
I wasn't sure if I would like (or finish) The Immortal Life of Henrietta Lacks
 by Rebecca Skloot but finish I did-I was fascinated by the story behind HeLa cells, and the idea that racism could be entwined with medical science in such an unfair manner.
Divisadero
 by Michael Ondaatje, beautifully written and lyrical, shares the story of 1970s northern California – my own backyard.
Here I Go Again: A Novel by Jen Lancaster is a delightful read you're looking for a good, funny escape-my-life chick-lit novel; check out my review of Here I Go Again!
Saturday Night Widows: The Adventures of Six Friends Remaking Their Lives
by Becky Aikman is a book that shows us how life has a funny way of taking us on a different path than we might expect; Becky Aikman's novel was a great reminder for me to live in the moment and love what I have. Read my post, "When Life Doesn't Turn Out The Way It's Supposed To" inspired by her story.
February, 2013
I'm a huge fan of historical fiction, and adored A Good American
 for that reason – but also, because of the author, Alex George. Tweeting with him while I was reading was such a thrill-and I cannot wait for him to finish his next novel! Read my review of A Good American here.
Another brilliant historical fiction novel, The Kitchen House: A Novel
 by Kathleen Grissom, recounts the story of a white Irish servant girl and her attempts to survive  as she lives and works with the slaves in a plantation house during the 1800s.
March, 2013
Raising Cubby: A Father and Son's Adventures with Asperger's, Trains, Tractors, and High Explosives
 by John Robison Elder helped me understand some of my students who have Aspbergers in a touching story of a father-son struggle to love each other.
April, 2013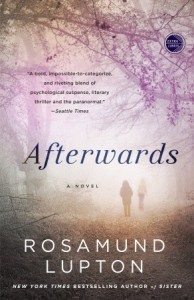 Afterwards: A Novel
 by Rosamund Lupton – oh, I loved this book, despite the constant stream of tears rolling down my face. You know what I mean-those books that touch you deeply? This one triggered volumes of emotions about motherhood, as I reflected on my post "Forever Afterwards".
May, 2013
A Constellation of Vital Phenomena: A Novel
 by Anthony Marra wasn't at the top of my 2013 book list, but I did enjoy the story of the father and daughter in war torn Chechnya and how it reminded me of playing Risk as a child.
June, 2013
Those We Love Most
 by Lee Woodruff, a beautifully written story about motherhood and change, left me teary and happy I was introduced to Lee's writing. While her autobiography detailing the horrific accident endured by her husband, reporter Bob Woodruff, established her talent, this novel will solidify her ability to evoke emotion within her reader in this story of a fictional tragic accident.
The Binding Chair; or, A Visit from the Foot Emancipation Society: A Novel
by Kathryn Harrison satisfied my need for more historical fiction, this time a story set during turn of the century Shanghai combined the pull of the past with the push towards the future – really a good read.
The Samurai's Garden: A Novel
 by Gail Tsukiyama didn't catch my attention-maybe it hid in the shadows of Harrison's novel-I'm not sure why I didn't get into it.
I was introduced to the mystery novels of J.A. Jance years ago by my friend and author, Dawn Wink (see below for her novel Meadowlark) and fell in love with the character of Arizona sheriff Joanna Brady – think of Judgment Call: A Brady Novel of Suspense (Joanna Brady Mysteries)
 as a story to satisfy your need for a  grown up Nancy Drew
Home by Toni Morrison – what can I say about a novel by one of my all time favorite novelists? Simply beautiful, haunting and a must-read.
July, 2013
If you haven't read Ann Patchett, you're certainly missing out and you should certainly add Run
, a story set in a New England snow storm,  to your 2014 book list!
The Execution of Noa P. Singleton: A Novel
by Elizabeth Silver combines a mother's love, a murder mystery, and the death penalty into a gripping novel. Reading it reminded me of  the power of memories, and as children when we feel powerless over our future.
This Is Paradise: Stories
by Kristiana Kahakauwila is a beautiful collection of short vignettes about the author's homeland, Hawaii. I loved her stories about making choices and growing up, especially as I was helping my daughter navigate the college application process. Kristiana Kahakauwila is not only a gifted novelist, but her ability to connect with her readers (me!) over social media made the reading experience really come to life.
August, 2013
The Whole Fromage: Adventures in the Delectable World of French Cheese
by Kathe Lison – I can't really recommend this book unless you're SERIOUSLY into cheese. I'm not.
Meadowlark
 was written by my friend, confidante and a wonderfully amazing woman, Dawn Wink. Elegantly written, Meadowlark is simply a beautifully heart-wrenching story of her great grandmother's life on the South Dakota prairie that you MUST read! After being one of the first 'editors' of her story many years ago, seeing her first novel birth into the world was one of the highlights of 2013.
September, 2013
"Parenting is hard as hell" – that quote resonated with me, even though my parenting experience is vastly different than the author, Lori Duron's. Raising My Rainbow: Adventures in Raising a Fabulous, Gender Creative Son
 is an eye-opening read for modern day parents and educators – see my reflection here.
Mother, Mother: A Novel
by Koren Zailckas was the first in a series of stories surrounding the theme of motherhood that I read this year as part of the blogger's book club From Left To Write. This psychological thriller left me wanting to hold tightly to my own children, and savor every momenet with them.
October, 2013
The Funeral Dress: A Novel
by Susan Gilmore Gregg was a story that captured my attention and kept me up late for a few nights-I couldn't get through the story of love, motherhood, and marriage fast enough. Can't wait for her next novel!
The Dinner
by Herman Koch wasn't my favorite read of the year, but I was intrigued by the narrative technique used by the author as he shares the mystery story of a mother's love.
The Cartographer of No Man's Land: A Novel
by P.S. Duffy takes the reader back in time to World War 1, but for me, it reminded me of my summer travels and the Pull of Nicaragua.
November, 2013
I was haunted by The Last Winter of Dani Lancing: A Novel
in part because of the skillful mystery writing of author P.D. Viner, but also because it brought back memories of a horrible childhood memory when I first felt the horror of murder in my community.
I devoured Help, Thanks, Wow: The Three Essential Prayers (30 Minute Spiritual Series)
by one of my all time favorite writers and life-guides, Anne Lamott. I spent this month hunkering down and preparing for big change; read my thoughts about Help Thanks Wow here.
Buddy: How a Rooster Made Me a Family Man
by Brian McGrory was a sweet memoir by the editor of the Boston Globe….reminded me of finding my own very first buddy.
December, 2013
Lady Catherine, the Earl, and the Real Downton Abbey
by Fiona Carnarvon tells the story of the REAL Downton Abbey-if you're a fan, you'll love this one.
I'm wrapping up the year with Happier at Home: Kiss More, Jump More, Abandon Self-Control, and My Other Experiments in Everyday Life
by Gretchen Rubin – enjoying parts of her story, but not all.
Yes, I'm one of those people who has ongoing novels on my bedside table:
I'm slowly rereading The Seat of the Soul
by Gary Zukav, which reminds me that every day should be infused with reverence.
I started reading The Merry Recluse: A Life in Essays
by Caroline Knapp after reading blogger Lindsay Mead's recommendation-I love savoring an essay a little bit at a time!
Use Your Words: A Writing Guide for Mothers
by Kate Hopper is another blogger recommended book that I dip into, chapter by chapter, as I attempt to describe this glorious time of my life.
Have you read any of these great books? What was your favorite book of 2013? What's your reading goal for 2014?