I spend huge amounts of time in the snow.  I mean HUGE.  More than normal people; well,  people who don't actually LIVE in the snow.
Last weekend, my trip to the snow started like this: left work at lunch,  loaded the car, started up some Taylor Swift on the iPod, and drove off in the early afternoon.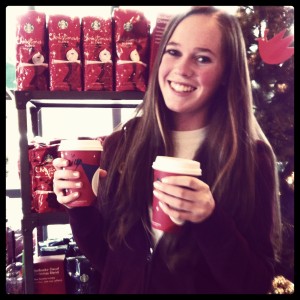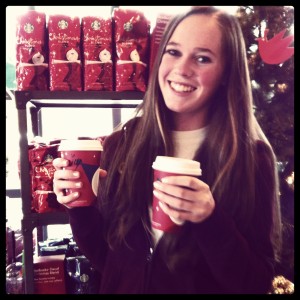 Everything started off really well.  Driving up the hill, leaving the valley fog behind, we were making progress.  Only five hours to Mammoth-no problem before dark.
We even had time to pull off the road and load up on caffeine – it was BOGO Christmas drinks, after all!
This is what a trip to the snow should look like, right?
 As we drove uphill, things went downhill.  Fast.
Momentarily switching on the radio, we heard the news about Newtown.  Tears.  Shock.  Horror.
Then it started to rain.  Not good.  The Prius is a lot of things, but it is definitely not a snow car.
We checked the weather channel app – if we hurried, we'd make it over the pass and into Nevada.  It would be smooth sailing after that.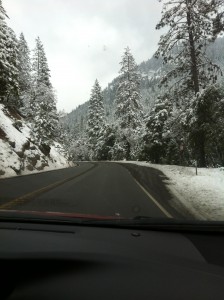 Looks pretty, right?  It was.  Lily quickly  grabbed the camera while Taylor boomed through the speakers.  So cheery.  A white Christmas?
Not so fast.  Chains ahead.
Highway 50 isn't called the 'loneliest highway in the US' for nothing.  There were NO services, so I had to suck it up and bundle up.  My daughter was watching.  There was no one else who could do it.
Don't be fooled by the smile on my face.  It was all for the camera.  Inside, I was starting to panic.  Prius in the snow is not my favorite mode of travel.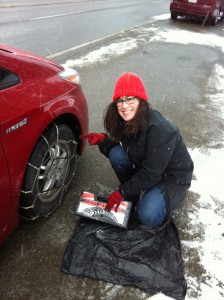 My spirits were elevated when the CalTrans chain inspectors, amazed that I did it all by myself, fist-bumped me and sent me over the pass.  It was only 12 miles-we could do it.  It was  only 4:00, and with a three-hour drive in front of us, I wasn't too worried.
Forgoing our usual shortcut, we opted for the pass over into the Nevada desert.  I ditched the chains – again, all by myself, and as snow turned to rain, I thought we were clear.
Damn Weather Channel app.
What looked clear actually became snow.  Lots and lots of snow.  But it was flat, and as we passed through Bridgeport behind schedule, I felt nervous but confident we could make it.
Compared to 50, Highway 395 is desolate.  Flat and decorated with gorgeous rock formations and rivers, I usually enjoy the drive.  But at this point it was getting dark, I was tired, and there was snow hovering way too close to the six-inch clearance of the Prius.
Suddenly, we saw it: the one and only traffic alert sign, pronouncing our need for chains.  Now.
And like a beacon in the night, the Big Sky Motel appeared, equipped with a large floodlight.  It was the only light on the road besides mine, so I quickly pulled into the parking lot and prepared myself.
Like a scene from Psycho, the motel door opened and a grizzled, shaggy man sauntered out in his sweatpants, with an equally scraggly dog following behind him.
"Want a room?  Only $69," he croaked.  I smelled something – he must have been enjoying himself in the motel lobby.
Although I desperately wanted to say yes, I declined, but when he offered to help with the chains I jumped on it.
Ten minutes later, we were off.  Until the chains broke.  In the dark.
At this point, I felt like Wonder Woman.  Faster than she could spin into her costume, I jumped out and pulled those suckers off.  I was muddy, exhausted, and determined to make it before dawn.
We did.
This is the next morning, enjoying coffee in our favorite funky coffee joint, Stellar Brew.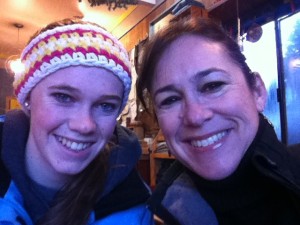 And this view…what a reward.
She didn't even mind spending the afternoon in the motel room, studying for finals.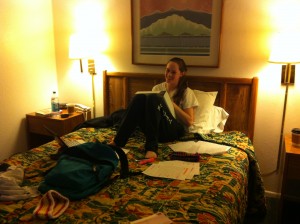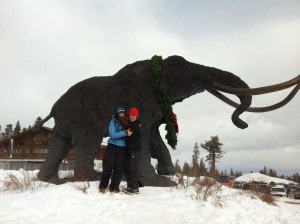 And despite the struggle, the frustrations, and the hours and hours of driving – not to mention the ski race that was canceled, we ended up with a white Christmas after all.  And a whole bunch of memories, too.

Mammoth Lakes on Dwellable