Have you heard of multimedia text sets?
Student engagement is definitely an education buzz word right now! All over the country, teachers and administrators search for tools, activities, and lessons to increase student engagement and create classroom opportunities for kids to respond actively, not passively, to instruction. For the last 18 years, we've been talking about 21st-century education. It's time for educators to hop on board and create lessons that start with student engagement and center around the 4 Cs of learning: creativity, critical thinking, communication, and collaboration.
Since they launched in 2006, I've used Google Suite (formerly known as Google Apps for Education). These tools have TRANSFORMED my teaching and allowed my students to learn more richly than ever before (and I've been teaching for 28 years!).
A huge shift in my teaching came in 2016 when I met Lisa Highfill, Sarah Landis and Kelly Hilton, the creators of HyperDocs. They managed to wrap strong educational pedagogy with the 4 Cs of learning into super high-engagement lesson packages that revved me up to begin sharing, creating and learning about new ways to use technology as a tool in my classroom.
I started with multimedia text sets – a 'gateway' to HyperDocs, but not a true HyperDoc. Multimedia text sets are ways for teachers to start the learning process with engagement. They help kids explore and engage with provocations related to the topic of study. I connect this step with Trevor McKenzie's work on inquiry-based learning – it's the provocation (hook) that ignites imagination, interest, and incites students to dig deeply into their studies.
Here's an example of a multimedia text set I made for textbook unit on 'Risk and Exploration':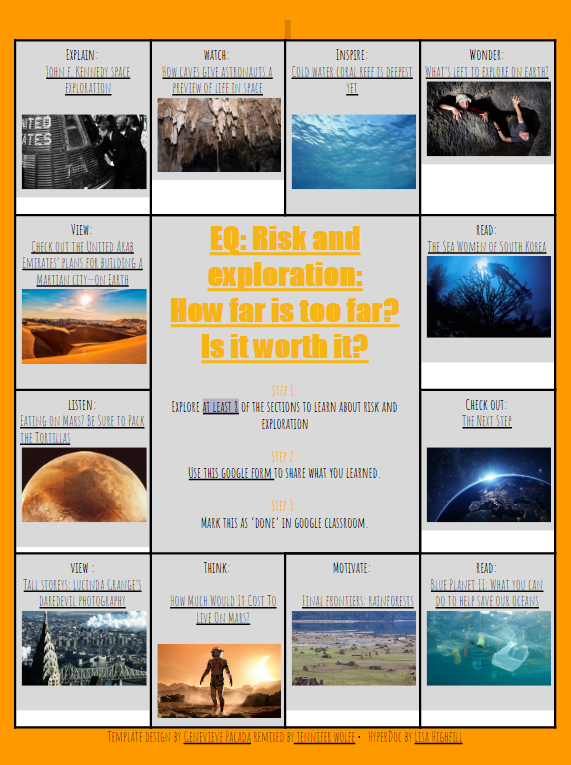 I share this on Google Classroom and give the students a class period or two to explore the different stories, articles, videos, photo galleries, and podcasts. They LOVE it! It's amazing how focused they become, and how they begin to engage in conversations about what they're learning. It's hard to get them to stop! In fact, they ASK if they can do it at HOME!
A key element of multimedia text sets is the share and reflect portion. Just by adding a link to a Google form to let students share their learning, create 'wonder' questions and let me know what they enjoyed most! This helps me to direct the next steps of the lesson, as well as 'hook' the kids into a direction for their learning.
Thanks to Lisa Highfill and Genevieve Pacada, this template is super easy to use and modify for each unit of study we do. It takes a bit of time to put the explorations together, but it allows me to not only get my class excited for our study, but also to be right alongside them as they discover new ideas!
Sometimes I use multimedia text sets as a smaller exploration.
Here's one I created for my AVID classes prior to a career research study: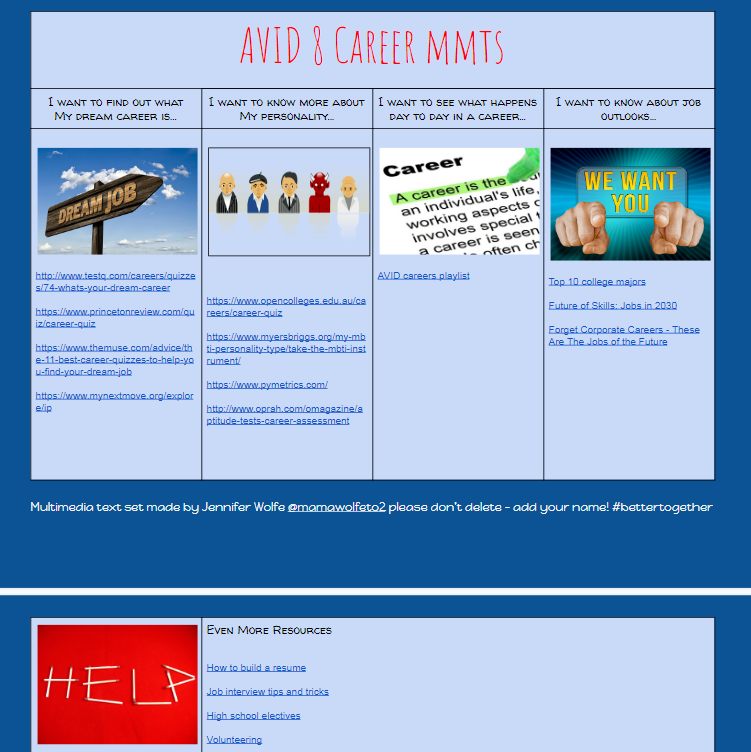 This multimedia text set was super fun and easy to create – I even took the personality and career tests with my class so they could see if I really was matched correctly to my job – of course, I was!
I've got lots of more examples I'd love to share with you. If you're interested, leave a comment or email me at mamawolfeto2@gmail.com and I'll help you out. Another great resource for multimedia text sets is the Hyperdocs.co website, as well as @TsgiveTs on Twitter. I believe we're #bettertogether! Feel free to make a copy of these two multimedia text sets and try them out!