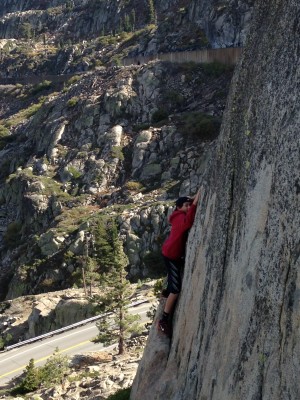 A Saturday afternoon on Donner Summit. We'd been up early-early enough for the sunrise. The brisk morning air shocked my senses, sending me shivering for a warm sweater; my body obviously not adapted from the valley summer to the mountain fall. On the drive up to Sugar Bowl that morning, John asked Cameron if someday he thought he'd ever get up to the train tunnels. "Someday," Cam replied.
It's been a particularly busy fall so far. As high school draws to a close for my oldest, afternoons and weekends are bursting with college applications, essay drafts and redrafts, and 'lasts' – last first day of school, last homecoming, last SAT test…so saturated are the days that I find myself rolling out of bed in the morning wondering how I'll possible have the energy to make it to bedtime. The morning rituals of coffee, journal and quiet help me to center and make it through, but I find myself heaving a huge sigh as the last activity concludes and I sink back into my chair, spent from the exertion of teaching, mothering, and just being. Too many things pushed aside for someday, not today.
Driving down old 40 that morning, Donner Lake sparkled sapphire blue in the distance. A quick cup of coffee beckoned on our afternoon break in Truckee, desperately required to make the final push through the afternoon and evening festivities. Taking advantage of the blue skies and absence of snow, rock climbers scaled the granite walls and tourists pulled into the overlook to gasp at the Tahoe vista. Enchanted by the natural beauty, we too pulled off for a peek.
I paused at the majesty of the crystal blue lake, shimmering below the peaks tinged with white. As fluffy white clouds silently drifted by, a flash of red caught the corner of my eye. My boy, unharnessed, clambered up the boulder to my right and smiled broadly as I walked towards him. "Hold on, Mom, I'll meet you around back." My maternal instinct flared, sure that it wasn't a good idea. Old 40 snaked beneath him. He was so confident, so happy, I couldn't tether him in.
He eventually reappeared, energized from his accomplishment. I exhaled the breath I'd been holding, climbed back in the car, visions of fresh brew in my mind.
"Turn off here, Mom," he shouted from the back seat. The Prius shuddered a bit as I hit the brakes, not sure what he wanted. "Let's hike to the train tunnels!"
I saw the moments ticking by. Seriously? The tunnels, normally buried by snow, towered what seemed to be miles above us. As I pulled into the turn out, I wasn't convinced it was even feasible. "Come on, Mom. Let's do it!" he pleaded.
I stopped the car and he hopped out the back seat, reckless abandon in his eyes. "I'll be right back," he grinned.
All my body wanted to do was sink into the driver's seat, pull out my book and wait. But as I looked into his eyes, the choice became clear. "Hold on," I replied. "I'm coming with you."
Cam smiled as we stepped into the brush. No trail in sight, he jumped from boulder to boulder as my eyes scanned a more sensible route. "Thanks, Mom. I really needed this. I've been cooped up way too long." As he veered left, my common sense went right and I called out "meet you at the top" with hesitancy as he quickly disappeared from view.
Not as bad as I imagined, I made it to the tracks quickly. Of course, he was nowhere in sight. A sudden movement caught my eye, and his head popped into view, his body clinging to granite. "Hurry up," I called to the distance. I was eager to get up and down, my impatience growing.
"Coming, Mom," he shouted as I approached the top. For years I've driven below the rectangular tunnels, visions of Chinese workers laying tracks and the Donner Party floating through my mind.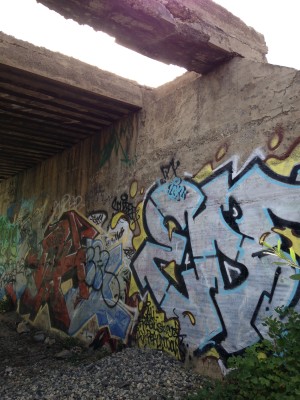 To my surprise, all that lay before me was a dirt road running past graffiti laden walls, no tracks anywhere to be seen.
My disappointment was quickly distracted by the sight of my son, arms spread wide to the world atop the tunnel. I sighed before shouting my warning as he began scampering away from me. Impossible to see the depth of danger he was in, I followed along from the bottom, somehow thinking that if he lost his footing I'd be there to catch him. The wind was picking up. I heard a train whistle sound in the distance.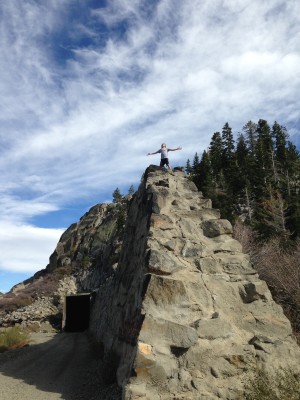 My protective instinct took over as he hovered, one foot poised to jump to the loose granite below. "Don't jump," I called as he swung his arms and did it anyway.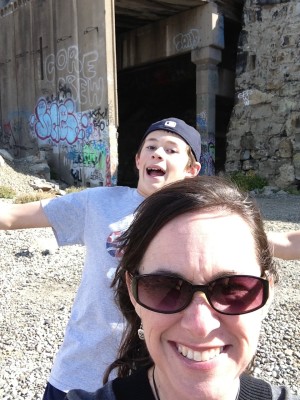 He landed, proudly smiling the whole way back down to me. I hugged him and began to walk back to the tunnel.
"Stop, Mom," he called. "Let me take a picture for your blog."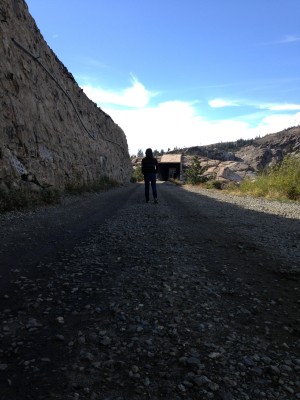 My heart, still pounding from his death-defying leap, swelled a bit as I slowed down. The breeze was tossing my hair, cool as it touched my skin.
"Mom!" his voice broke the air. "Take a picture!"
My eyes found him horizontal, face down on the concrete beam. "Take it shooting up towards the sky!" he directed. I snapped the shutter just as the clouds drifted by.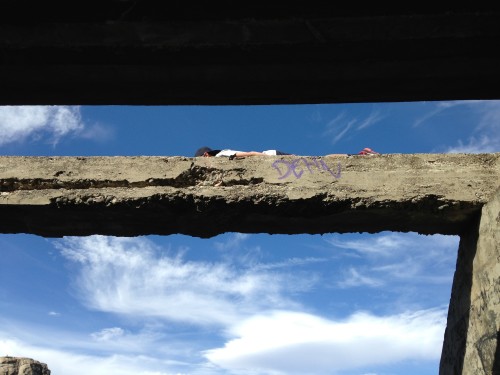 My Keens slipped as they hit the loose gravel. I descended carefully, feeling my years juxtaposed against his youth. This time, though, we traveled together, watching the climbers scale down the rock to our right. "Aren't you glad we did this, Mom?" he whispered.
I hesitated before responding, reflecting on all the walks we took when he was a little boy, pausing to remember his face as he discovered rocks, sticks, and treasures along the way. Peering into his deep brown 14-year-old eyes, my throat tightened, my eyes welling up with tears.
"I really am, buddy," I replied. "I can't imagine anywhere else I'd rather be right now." Looking up, the hiker's trail marker came into view, assuring me we were on the right path. Together.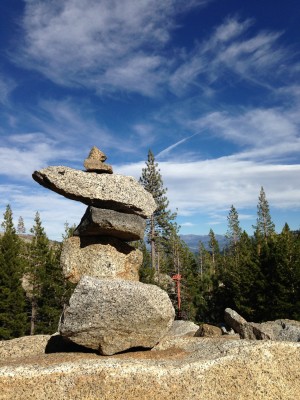 He was right – we did really need this. Someday is today.
The coffee could wait – this moment would never come again.
Related articles