Six months ago, I wrote an essay about my son's injury at Mt. Hood. I called it "Broken", and you can read the original piece here. It was hard for me to write; I was going through some emotional times during the summer, and, as with any time a parent sees their child injured, his accident really shook me up. I needed to figure it out.
As with all my writing, I wrote it for me. I wasn't out to impress anyone with his injury or our story. I didn't intend to make my life seem harder/more painful/more dramatic or fill-in-the-blank with whatever word you would like. I was simply telling my story, my experience, and sharing how it made me feel. No judgement, no pity party, nothing but sharing my love for my son, and no evaluation or proclamation that our situation was more traumatic than any other.
My story was about healing, change, and adapting to the 'new normal' – something I was dealing with on several levels in my life. At the same time this happened, I was reading a blogpost by one of my favorite writer/bloggers, Katrina Kenison, who so eloquently pens the exquisite agony we feel as mothers adapting to different experiences with our children. It felt like the Universe was speaking to me, sending me ways to cope with my situation.
I ended my story with healing, with gratitude, and with thoughts of moving forward.
Today, the Huffington Post published the same story, with the title "The Phone Call No Parent Wants To Get". Provocative title, I agree – that's what happens when stories get published online.
Within minutes, there were dozens of comments. Surprised, I clicked over. I didn't think it was the kind of post that would garner much commentary at all. It was just a retelling of an experience of motherhood.
What I saw was full of hate.
I fully realize that the Universe deals out trauma much more intense than what we were experiencing. No one wants to see their child – or any other child – experience pain, fear, or injury. I know that some have more than their share of heartbreak, suffering, and agony. I would never presume to understand the pain of losing a child, or watching a child suffer through any trauma.
But that's not what my essay was about.
It's too bad that those people who clicked on my post were "infuriated", as one reader expressed. It's too bad that they felt they just wasted their time reading it, or that they somehow had to insert their ego/story/opinion into mine.
Why they would waste more of their time spewing hate and vitriolic comments to me is amazing.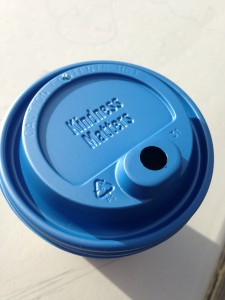 Kindness matters, people. Read closely:
You absolutely have the right to say what you think, just like I do. But please, think about how you say it.
This essay wasn't a piece about politics or religion. It wasn't a controversial topic. This was a reflection, a memoir, a snapshot of time. It was my experience, not meant to be evaluated or judged against anyone else's. What would be the point in that? How could one possibly believe that their pain is any greater than another, that their suffering is any stronger? We never know each other's back story.
While the internet offers an amazing opportunity for people to communicate and connect, why not do so with kindness and seek to understand and be understood? Why hide behind anonymity, freely condemning people for their ideas? Would you yell at me like that in person? Would you hunt down a book author, and plaster your words all over their home?
I'm not impressed by your hate. I'm not even agitated enough to write back and engage in any sort of debate. It's pointless. I'm even laughing at much of your poorly written, ignorant assumptions you make about me and my son. You have no idea. You don't know me, you don't know my story – and to engage with you would be to proclaim that I know yours. Your assumptions make you look like an ass, and give you no credibility. Who are you to judge me?
Life is hard. We all have different challenges. In no way would I equate my son's accident as anything even close to what many parents deal with on a daily basis.
THAT'S NOT THE POINT.
We are all on this life journey together. We all have a voice. I use mine to communicate, to understand others, and to make the world a kinder place to live in. By spewing your commentary, it makes me wonder what else you do in life that pushes us all backwards in anger, instead of forwards in compassion.
Remember, kindness matters. Maybe I could learn from you – but not if you try to teach me with your hate.