That time of year is sneaking up on us again…when we are drowning in celebrations and occasions and oozing with smiles and happiness. A time when introverts like me hardly know what to do with ourselves, let alone what to say when we're put on the spot. The right words usually come to me at the wrong time – about sixty seconds AFTER the fact!
Help is here! No longer will you be sweating the public speaking, or kicking yourself for thinking of that witty one-liner just a little too late.  The recently published book, Toasts: The Perfect Words to Celebrate Every Occasion by June Cotner and Nancy Tupper Ling answers every anxiety ridden thought you might have about what to say, when to say it, and how to walk away feeling like you nailed it.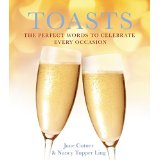 Toasts was a long time coming; author June Cotner worked on the compilation of quotes and sayings for nearly a decade before connecting with writer Nancy Tupper Ling. Together they compiled words for every occasion – a peek inside offers everything from a guide to toasting (remember to introduce yourself), etiquette basics (thank the host, make eye contact, go out strong), and a plethora of delicious words for any occasion. 
As a verified 'word nerd', I've long kept journals of my own ideas, as well as of poetry, quotes, and other assorted lists of things I know I'll never remember. One aspect of Toasts that I particularly like is the ability to use lines from a variety of well-known and yet-to-be known writers even when I'm not standing in front of a crowd. For example, in the "Birthdays" chapter, I might use an adaptation from William Butler Yeats, "In every succeeding year, may you sing more than you weep" when writing about my children growing up. Found in the "Charity" chapter, Thomas L. Reid's quote, "May we realize that the best exercise for our hear is bending down and lifting up others" is perfect for my stories of working in Nicaragua. And in "Pets", George Eliot's words connect completely with writing about my dog, Cola: "Animals are such agreeable friends-they ask no questions, they pass no criticisms."
Toasts has something for all the common toasting occasions: for school or camp reunions (is your high school 30th creeping up on you?), to guests and hosts, and high school and college graduations ("You've earned your degree, You've made the grade, Success will be yours, once your loans are paid" – ugh, does that hit home!). Family reunions (we have a big one in August-and this year, I'll be ready!), weddings, and memorials each fill a chapter, too. But Toasts also offers some surprises: four chapters devoted to children, children's blessings ("May you be blessed by your dreams, and the courage to chase them" – ooh, I'm writing that one down!), children's graces and children's toasts (those would have come in handy about 20 years ago when I was surrounded by pregnant friends!), homecoming (yes-my college student should make an appearance in June!), patriotic toasts (Grand 'ole flag party?), and 16 different holidays (May your neighbors respect you, trouble neglect you, the angels protect you, and heaven accept you – gotta love the Irish!).
Whether you're an anxious first time toaster, a seasoned speaker who needs new material, or an introverted writer searching for inspiration, Toasts: The Perfect Words to Celebrate Every Occasion, is the perfect compilation for you. Perfect words to celebrate life, love, and the extraordinary in the ordinary.
Disclosure: I received a copy of Toasts: The Perfect Words to Celebrate Every Occasion for review purposes. These are affiliate links.