True confession: I haven't always been a poetry lover. When I was younger I collected poems, intrigued by the connection I felt with a complete stranger's expression of my emotions. I copied poem after poem into spiral notebooks, savoring every word. And in college, I fell in love with Blake and Dickinson and Maya Angelou and so many other voices that spoke to me from the pages of their slim, hardbound books. I developed a love for words less linear, less formulaic, and less predictable.
Then I started teaching middle school, and wasn't sure how to share my love for language with my students – kids who were hesitant to approach text that looked different, and were afraid of getting the meaning 'wrong'.
So I backed off.
Textbook poetry bored all of us to tears. I couldn't find a balance between helping them build the scaffolds they needed to understand how and why poets wrote, and where poetry was relevant or even just found in their lives.
This poetry month has been my favorite out of 25 years of trying.
Getting started with poetry:
I decided to just jump in and start writing. I used this Blackout poetry hyperdoc because it seemed to be so accessible and so simple. What kid couldn't just select words and black out the rest?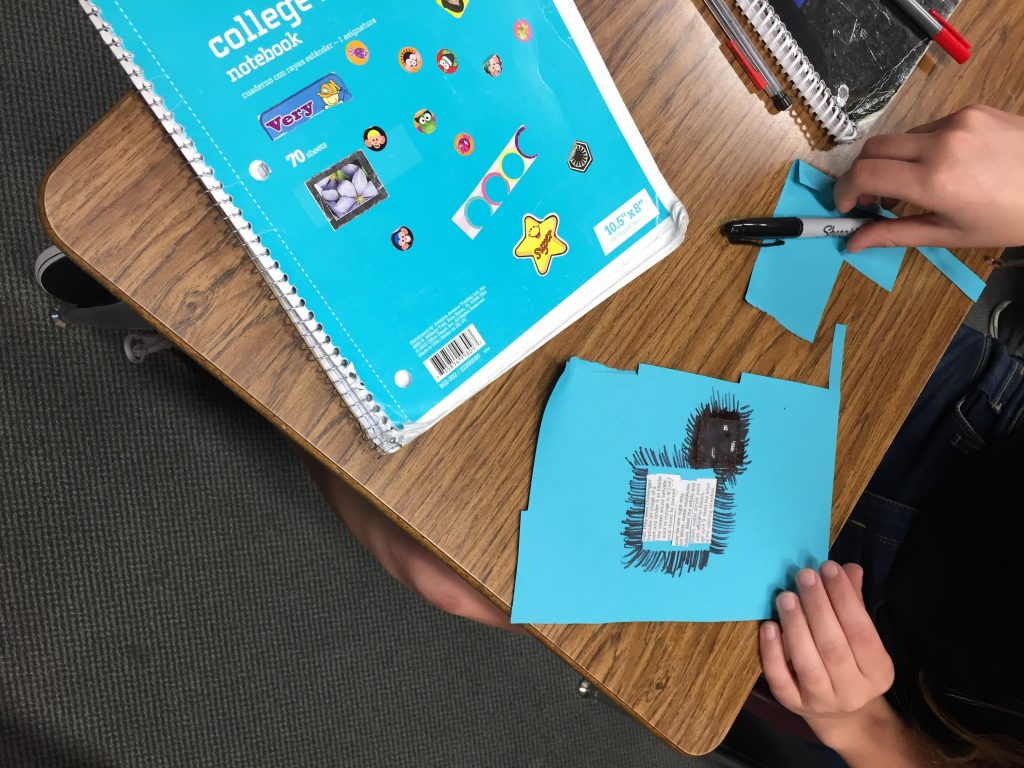 Well, it turns out that some kids think WAY too hard. Instead of just relaxing and circling words that were beautiful or powerful or simply stood out, they tried to turn it into a sort or upside down word search. And some kids STRUGGLED.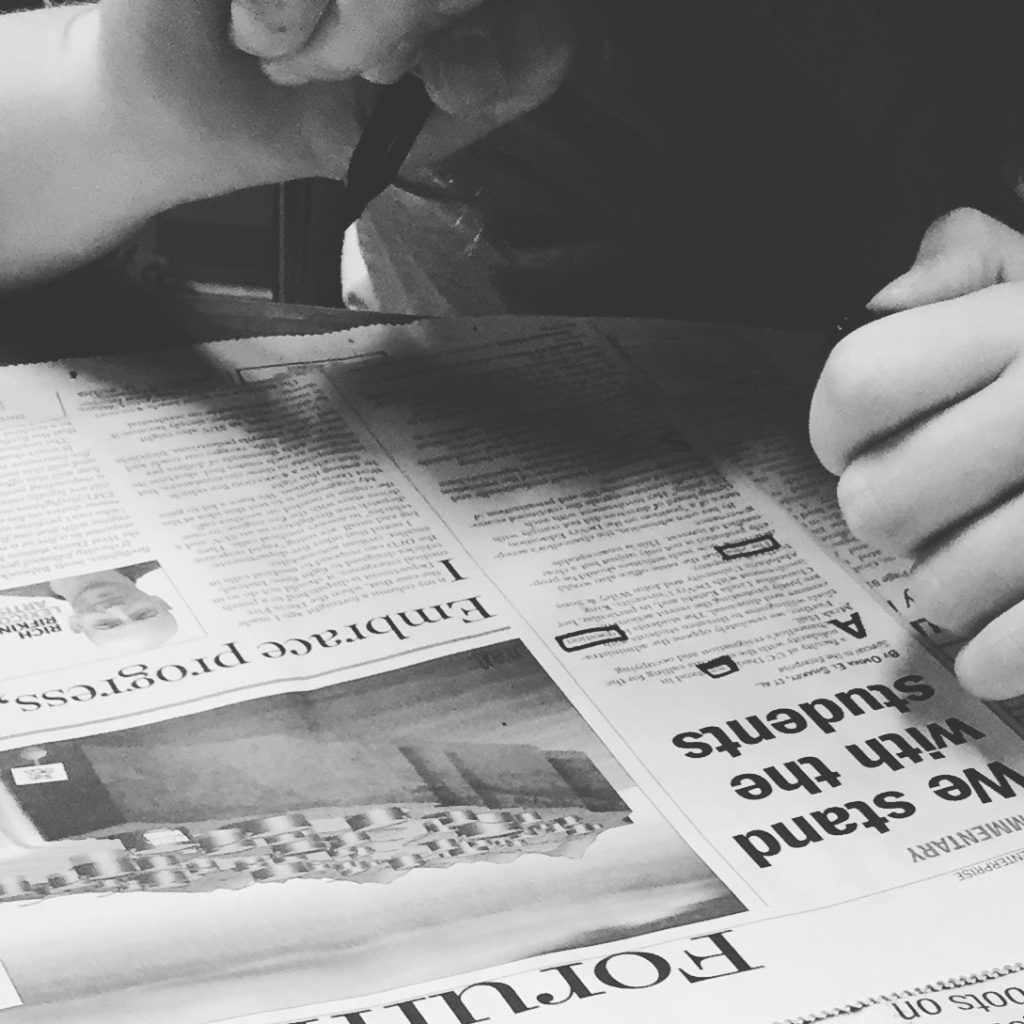 I found myself flitting around the classroom reminding kids to 'let their creativity flow' and not to think too hard. I told them to not pay attention to font size or location of words. I suggested they just circle, and see what happens.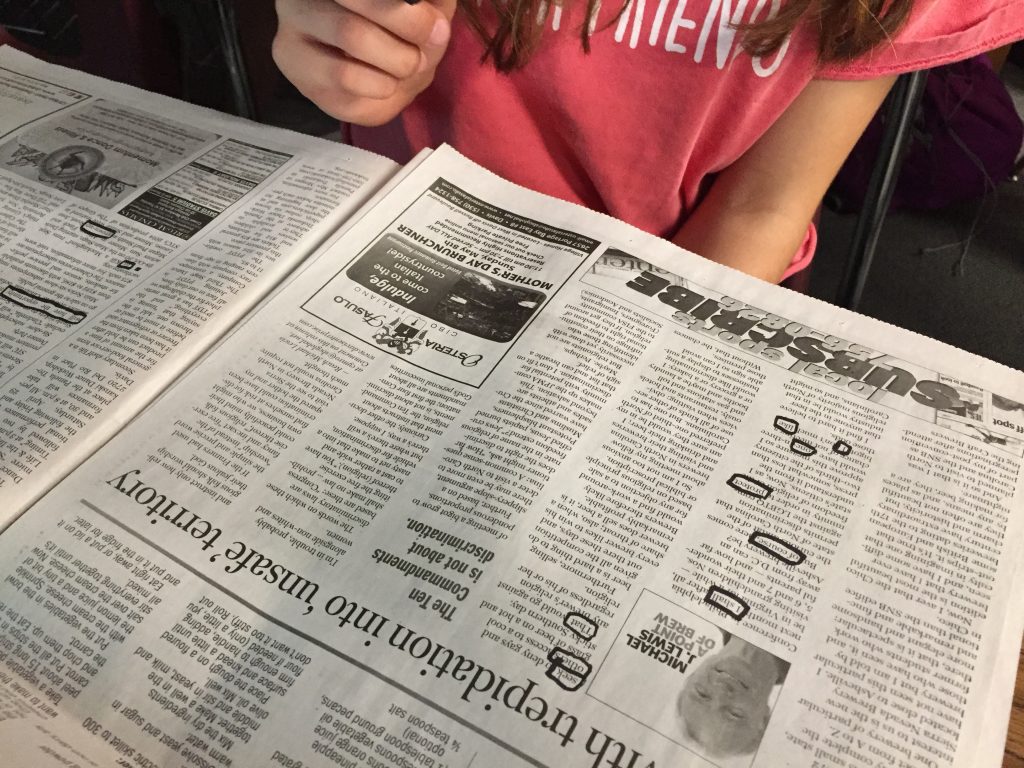 And of course, some came up with their own methods. But whatever they chose, I was happy that they were starting to see the beauty of language, and how words could bring power to a page.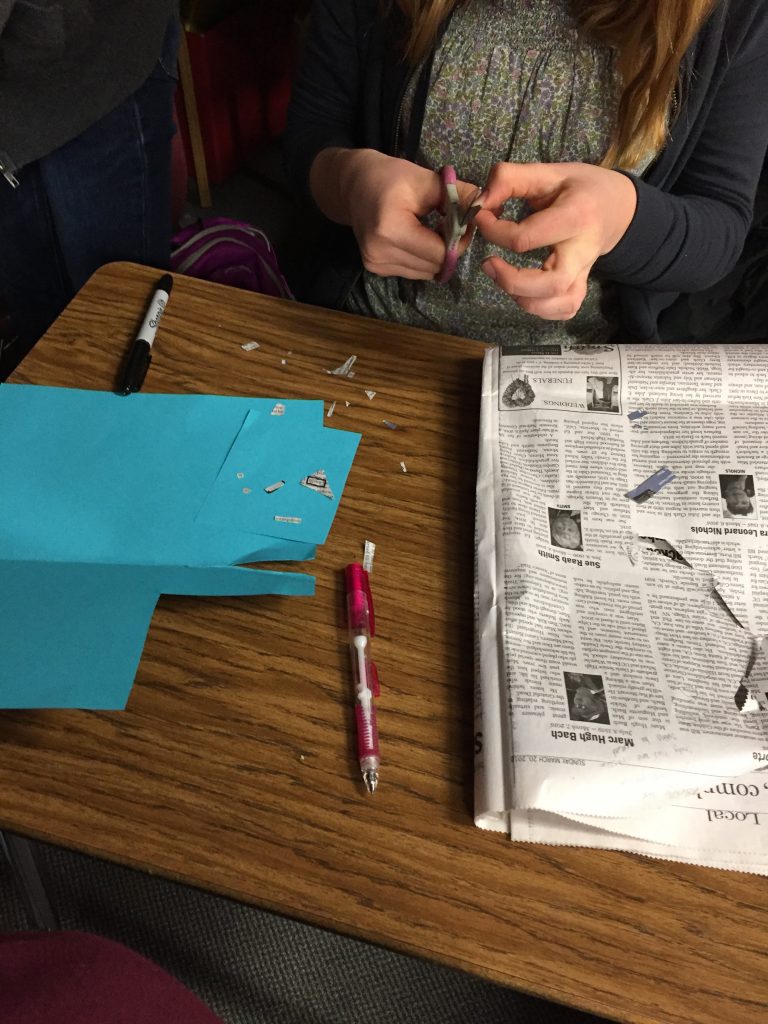 This student was inspired by an image alongside the words and ended up creating a beautiful poem with a combo blackout/sketch effect.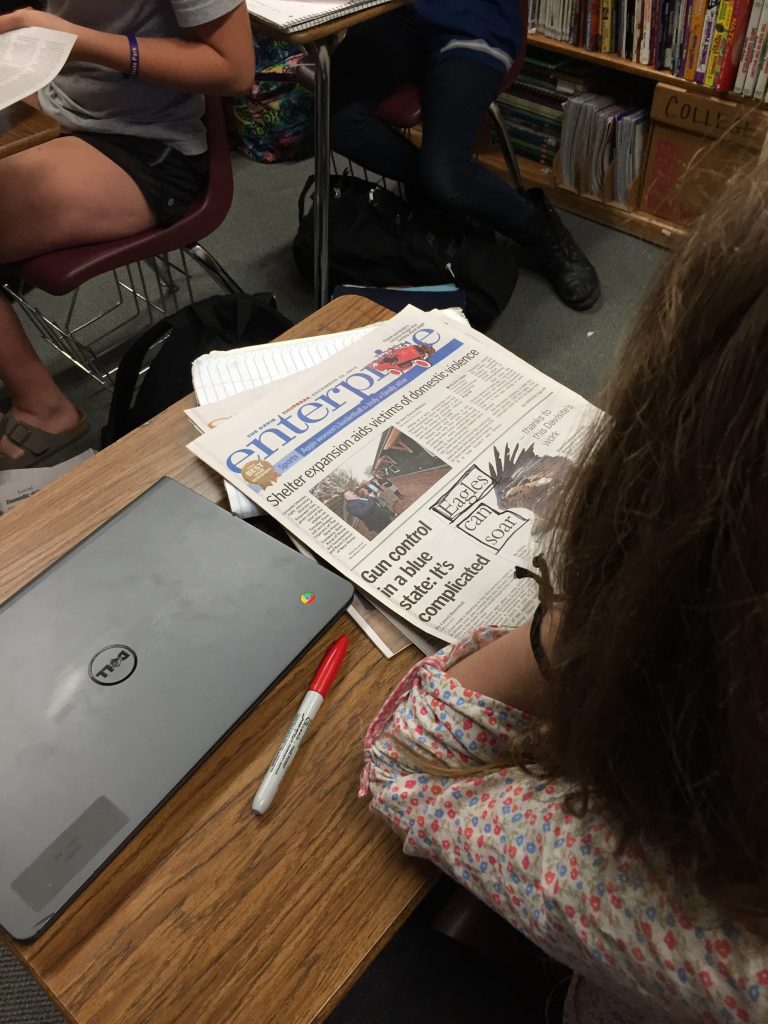 Some kids decided they wanted to combine columns to create a more complex poem.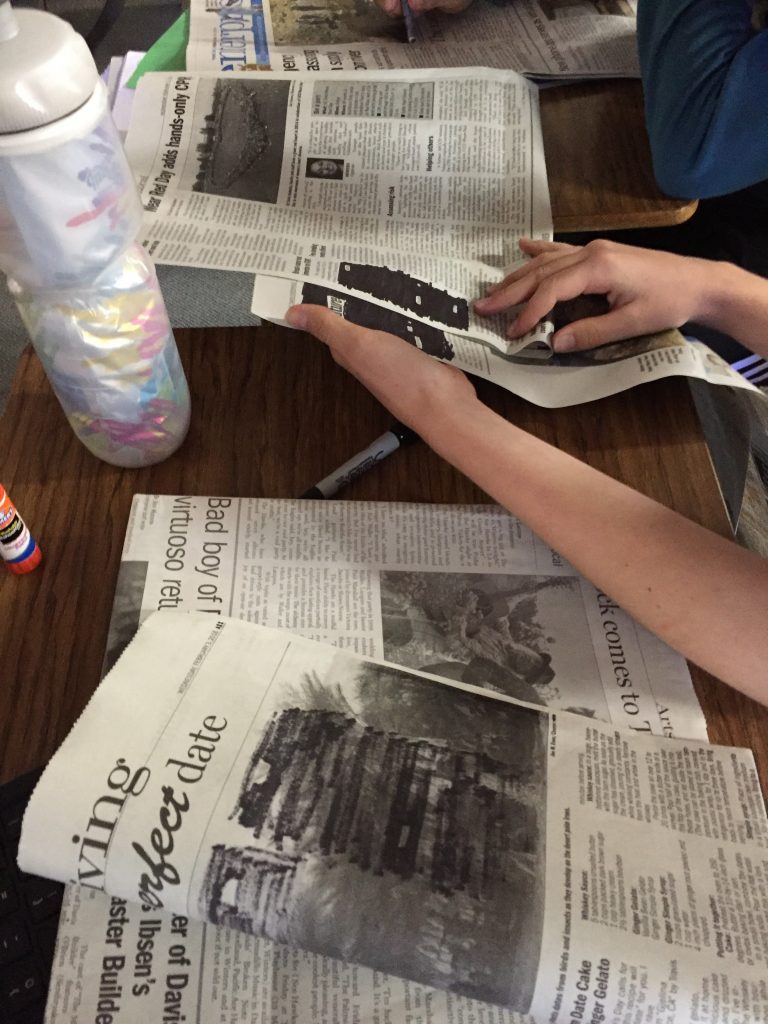 I'm pretty confident that the finished products shocked them – especially when I read them aloud to the class.
Using hyperdocs:
Once I had them relaxed and hooked with the blackout poems, I started slipping in mini-lessons using foldables in their interactive notebooks. I LOVE the series from Lovin Lit – her Interactive Poetry Notebooks have really helped me balance the poetic structure practice my 8th graders needed with learning how to annotate and write poetry, too.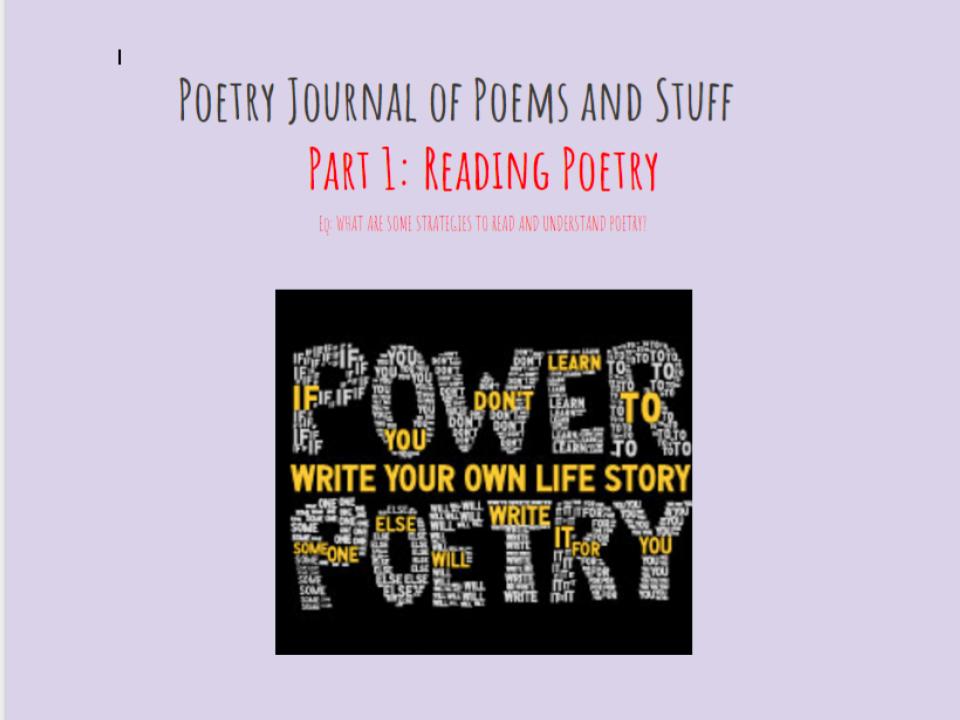 My next step is to slip in some instruction about how to read poetry. I've been using this poetry hyperdoc as part one of this lesson. I'm a huge fan of hyperdocs, mainly because it allows me to differentiate instruction while giving my students choice and voice about how they learn. It's 'hands-free' for me; I work to create the hyperdoc up front, but during class time I'm free to wander around, talk with students and coach them through the harder parts. Hyperdocs have transformed my teaching.
Writing odes:
We've moved through types of rhyme and learning how to annotate, so I threw in writing odes. I got the basic idea from Interactive Poetry Notebooks and created an outline to help them create some of the figurative language components.
This has been hilarious.
You might think middle school students would think odes were silly – I mean, adults usually think of odes as serious declarations of love, right?
So what do you think middle schoolers declare their love for?
Dogs. Water. Waves. Netflix. Flowers. Minecraft. Twenty-One Pilots. Lots of students write odes to their pillows and their beds. One student wrote an ode to his ill grandmother, and another to her mother. Some wrote odes to each other, some wrote about ice cream and tacos and one even wrote about Donald Trump.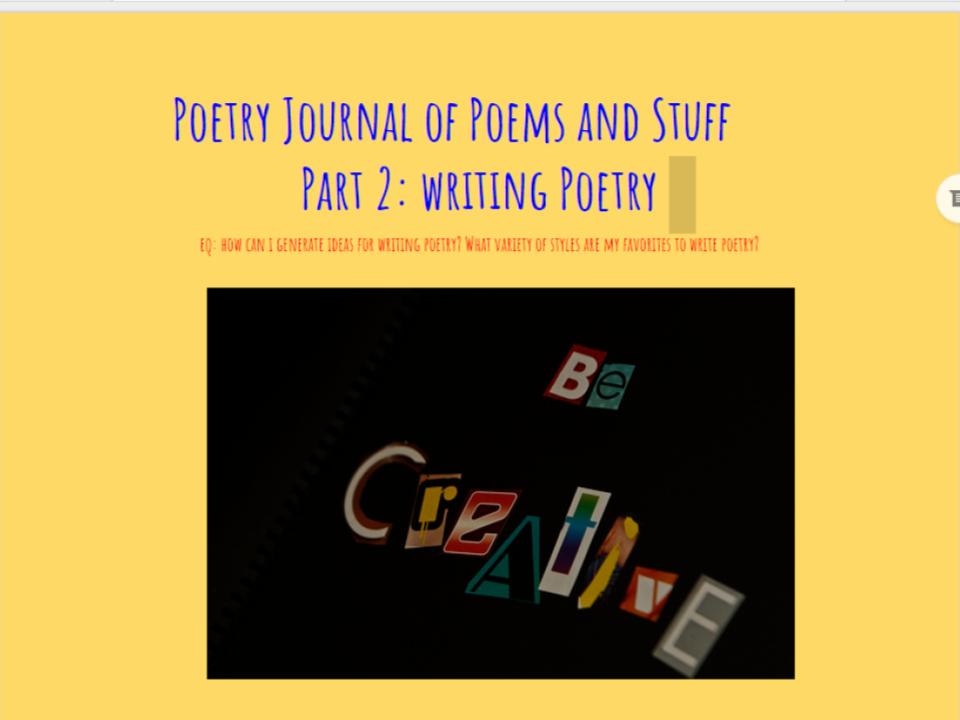 I've also created a Poetry hyperdoc part 2 to help give students more practice and choice about writing and publishing poetry. I don't want to drag the unit out too far – just enough to have them feel confident and curious about reading and writing poetry, and have some fun along the way.
One thing I've learned is that I actually CAN teach kids to love poetry, and to have confidence that they can read and understand the sometimes abstract messages poets create. For 13 year-olds, I'd say that's pretty great.
I love to share my favorite poems and poets here, usually once a month. Do you love Mary Oliver? Thich Nhat Hanh? Maya Angelou?
I've even written some poetry – and I know first hand it's harder than it seems.
I'd love it if you'd share some poetry with me in the comments. And if you have fun poetry ideas, share them in the comments, too!
primark