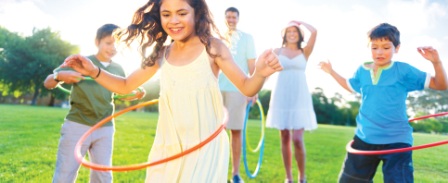 Are you still thinking about that New Year's resolution you made? Are your kids (and you) slipping into their old habits? Not to worry – mamawolfe is delighted to have guest writer Jessica Socheski share her ideas about healthy families!
Every January, the number one New Year's resolution is to get back in shape. After the months of holiday indulgence it only seems natural to start the New Year off right with workout routines and new diets.
Instead of doing this resolution alone, why not include the entire family? Children need to practice healthy habits in order to maintain health in adulthood, so why not make health a family affair?
Family Physician
One of the first steps towards improving family wellness is to find a good family doctor. A great doctor will take an interest in every family member and take the time to know your clan. Having a family practitioner who is good with children will help kids feel comfortable when receiving shots, visiting for check-ups, or receiving emergency medical attention.
Because kids need regular check-ups to ensure healthy growing, developing a personal relationship with your physician seems ideal because you will be interacting with him or her on a regular basis. When finding a family physician, consider traditional insurance coverage and alternatives like concierge medicine which tends to provide more private primary healthcare.
Make Mealtime Fun
Many times families spend more time eating on-the-go from fast food restaurants than they do in their own kitchens. No matter how many nutritious offering a restaurant boasts on its menu, cooking at home almost always proves better at delivering healthier food and better family relationships.
In order to make mealtime fun, invite your kids to cook with you in the kitchen. Spend time each weekend looking over healthy and relatively simple recipes. After selecting a few to choose from, ask the kids to pick the meals for the week. Your children will feel involved in the process and, as a result, will probably be more likely to eat the healthy food on their plates because they asked for it.
Bring the kids to the grocery store, too. Most parents dislike shopping with their children because it seems like too much of a hassle. Avoid the junk aisles when shopping with kids, and allow them to select whatever they want to eat from the healthy aisles. This is another practical step to involving children in your family's new healthy lifestyle.
Finally, make sure meals are eaten together. Do not let life's busyness interfere with enjoying this essential time with your children.
Family Night
Designate one night a week as family night. Family health is not just physical health; it includes mental and relational health as well. Spending at least one night a week together without homework, work, chores, and other interfering tasks can improve a family's overall mentality. Children naturally want to spend time with their parents, but if this happens rarely, families will grow apart.
Outdoor Adventures
Another great way to pursue health together is to spend time exercising as a family. Kids learn the most from your example. So spending family days biking together, hiking, walking, or playing sports will teach children to stay healthy through fun exercise. And these activities will also serve as team builders between you and your kids.
As a parent, there is nothing more important than the well-being of your family. Focus on improving the areas that are lacking in mental and physical health and turn 2014 into the year of total wellness.
Image Source: www.prairiefarms.com