Have you ever had an idea that you wondered if you could make it work?
Did you lose sleep at night running it over and over in your mind, searching out the pros and cons, the rights and wrongs, the hows and whys?
Did you share it with your friends, ask for advice on Facebook, or search out an expert?
Did you try jumping in all at once, or take baby steps to test it out?
We teach our children to be adventurous, to raise their hand and share their thoughts, and to try new foods.  We expect them to do things we never did ourselves, to speak for us when we cannot find our own voice, and to teach us how to use the newest technology that we do not understand.
For many of us, change is scary.  We like the known over the unknown.  Taking a chance means risking making a mistake, failing, or facing ridicule.  Taking a chance means we might need to show our weaknesses. Taking a chance is also how we learn our life lessons.
I like to think that the older I get, the wiser I become.  I let loose my inhibitions and step into situations that would have paralyzed me ten years ago.  Sometimes it's more of a physical challenge: I cast out on open water, soar through the air, or push myself to exhaustion.
Other times the mental task seems just as daunting:   applying for a new program, sharing my thoughts, or taking on the terrifying task of parenting teenagers.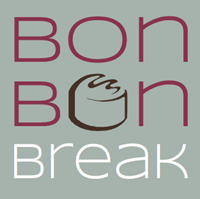 This week, two of my writer friends are taking on their own new challenge by bringing their idea into reality.  Val and Kathy have created a website, Bonbon Break, designed to provide a space to share their thoughts, wisdom, humor and ideas with like-minded women, and I am honored to be one of the contributing writers in their first edition with my parenthood post on teaching social responsibility.
If you're looking for a little inspiration, some interesting thoughts, and a great example of making your ideas come true, visit Bonbon Break!  You'll be happy you did.
primark