Aging is not 'lost youth' but a new stage of opportunity and strength.

It's a winter Saturday morning, dreary and grey and bare. Outside my window I look down on my garden; the trees bare, branches arcing and cascading with delicate, raw beauty. The rose bushes are pruned, the soft flesh of the grapefruits fall with an ugly crash to the grass below. Verdant reen grass, green shrubs, green moss landscape my view, with little other color to brighten my spirits. The bones of the garden are exposed in all their raw and graceful and startling vulnerability, green but not growing. We both are waiting to bloom.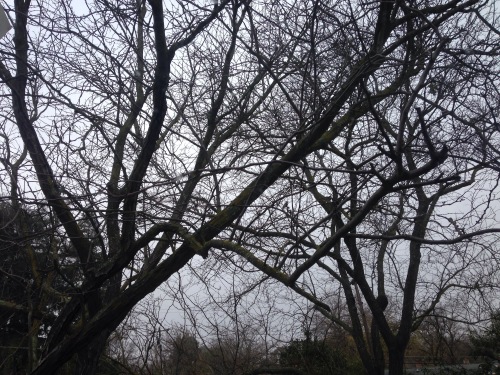 Outside my window I set up a new bird feeder this winter, right next to the birdbath. I carefully filled it with seed, positioned it next to the safe haven of a Lavatera bush, under the bare bones of the pistache tree. I've followed all the steps, but still the birds flit and fly around it. Not one is perching this winter. They won't stop where I want them to. They refuse to land. What do they have to fear? Maybe they know something I don't.
This winter, I'm in my 50th year of this life, fifty years of aging gracefully. I can feel it in my bones, in the sinew of my shoulder, in the crick in my back when I bend down to clip the fragrant narcissus blooming in my backyard bed. It's hard, this aging. It's hard when Facebook flashes images of my youth; class photos from elementary school, sixteen-year-old sojourns to Stinson Beach, the goth days that stilled my soul. I click and eagerly ingest the memory, scan the photos for others I recognize in their youth. Sometimes I see them aging gracefully, too.
People see my photos and say I haven't changed. But it stuns me, really. Physically, maybe not so much- a few pounds heavier, my face a bit fuller, my breasts a bit lower and my body baring the glorious work of motherhood. But inside, sometimes I don't even recognize myself. I feel the stripping down happening this year, the leaves falling to the ground and in place, my bark, my branches growing and reaching and sometimes fracturing and not caring who sees.
I see my daughter's face, clean and fresh and smiling. Her friends look just like her, really. Their eyes shine with the wisdom of college freshmen, off and eager and full of the energy that youth and growth offers. Her second decade, her time when the world is brimming with experiences, her mind teetering with the excitement of a new home, a new school, a new love.
My son towers over me, long and lanky and grinning with the kind of smile that makes me wonder. His eyes gaze with an old wisdom yet his body pulsates with the youthful need to move, to skate, to ski. His time when dreams deferred have altered his course, his world changing and he is riding it out, gracefully.
I tell my middle school students that well behaved women rarely make history. I write and read and teach and share my stories, feeling bits of raw bone shining through. I prune and rake and weed and dig, waiting to bloom, to wake up, to uncover the beauty, to expose the substance, to pull off the overgrowth. To strip down to my core, to discover the beauty of aging gracefully.
Fifty years, an indicator of a number of breaths and beats and moments my body as been growing, aging, learning. Can you see the grey and the lines and the wisdom that comes with half a century of work?
I won't stop. I have nothing to fear.
I have everything to learn.
Can you see ME?
primark