"How did you fit everything in that orange backpack, sweetie?"
The sun streamed in through her sliding glass door. It was mid-morning, and she already looked like she had never left for college. A wet towel hung over her pink desk chair, and her fuzzy sky-blue bathrobe still lay carelessly tossed on the floor. Her closet doors were flung open, and she rummaged around as she replied, "I don't know. I didn't pack much. I'm trying to figure out what to take home."
My breath caught in my throat. Home? She is home…at least, I thought so. She was nearly born in this house, in this very room. She slept and woke and laughed and cried and lived, all right here. At home.
I gazed out the window, searching the landscape for the right way to respond. Keep it casual, I thought.
"Right. It's gotten a bit colder there, hasn't it? At home…" I remarked, casually walking out the door so the sunlight didn't catch the tears pooling in the corner of my eyes.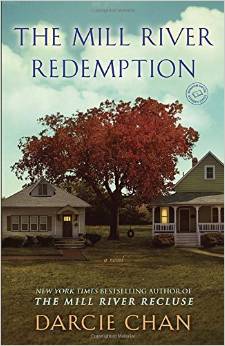 This post was inspired by the novel The Mill River Redemption by Darcie Chan, about two estranged sisters who are forced to work together in order to uncover the hidden inheritance by their mother. Join From Left to Write on December 2nd as we discuss The Mill River Redemption and enter to win a copy of the novel. As a member, I received a copy of the book for review purposes.