"All successful people men and women are big dreamers. They imagine what their future could be, ideal in every respect, and then they work every day toward their distant vision, that goal or purpose."
It's the beginning of the year, and everywhere we turn are stories of resolution – it's impossible to escape people's heartfelt testimonies to how they want their lives to change, to grow, to improve. People are imagining the life they want to live.
I'm not a New Year's Resolution kind of person – to me, resolutions are just a trendy way to acknowledge all the things people might think they're not doing 'right' in their life – and most often, resolutions don't resolve into anything but added stress and disappointment.
I think most of us have an inkling of the life we'd like to live, but often we don't know how to get there. We think if we resolve to  check off this list of 10 or 20 or 100 things, we'll be there. Life will be….perfect? In my experience, though, by the time we get everything – or nearly everything – checked off, life has changed, added more complications, and we wake up and realize in the quest for 'perfect' we've lost the present, and are likely in a similar place to where we began.
I'm an intention kind of girl. I like to think small to think big – and think about what I intend to do in any period of time. I do love to-do lists, but I also love the quiet and stillness required to imagine, to create, to inspire myself to live the life I dream of – and to muster the courage to do so.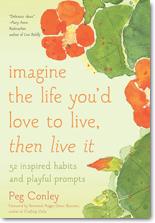 This is one of the reasons I was drawn to Peg Conley's new book, Imagine The Life You'd Love To Live, Then Live It: 52 Inspired habits and playful prompts.  Peg is an artist-turned-corporate-worker-turned-writer-back-to-artist kind of woman. According to her publishing website, mid-life, she listened to " a nagging feeling that life might hold something else in the midst of it all. Then came a big breakthrough—(she)  founded a successful, art-centered company based on the advice of her inner voice: "
Peg's journey inspired her book, which is divided up into 52 weekly chapters full of an idea, application, quotes and advice about how to intentionally create the life that we've been wanting. Starting with Chapter One, Peg shares her personal story of change and then asks the reader to 'imagine' their ideal life – either by writing, drawing, collaging or dreaming it. Designed to be read one chapter per week, Peg offers ideas as varied as "Write With Your Nondominant Hand", to "Look For Magic and Miracles", to "Act 'As If'", "Get A Massage", and "Look for 'Meant To Be's".
One of my favorite chapters, "Give Thanks", reminds us of the importance of gratitude in our lives. She shares statistical information as well as anecdotal, expounding her idea that showing gratitude should be more than just something we do on Thanksgiving – it should be a regular practice. I also enjoyed her chapter, "It's the Little Things", which assert our shared belief that we should remember to celebrate the small moments in life, the times which might be neglected on our push towards our goals.
I challenge you – make 2015 the year you set an intention to dream about the life you want to live. Think big, dream daily, and pick up a copy of Peg Conley's book, Imagine the Life You'd Love to Live, Then Live It: 52 Inspired Habits and Playful Prompts
for an extra nudge.