I don't believe in New Year's Resolutions – one only has to visit a health club in February to see my point. Resolutions don't work – but intentions do.
In 2015, I intend to practice courage – turning hopes and dreams into action, changing possibilities into probabilities. Choosing love over fear, presence over absence, to push forward over holding back.
As I move forward into 2015, I'm inspired by the words of one of my heroes, Maya Angelou. She says: "One isn't born with courage. One develops it by doing small courageous things—in the way that if one sets out to pick up a 100-pound bag of rice, one would be advised to start with a five-pound bag, then 10 pounds, then 20 pounds, and so forth, until one builds up enough muscle to lift the 100-pound bag. It's the same way with courage. You do small courageous things that require some mental and spiritual exertion."
Yes, Maya, I am ready to work hard, to build muscle, to exert myself mentally and spiritually. 2014 was a year of change, a year of possibilities, a year of setbacks, and a year of possibilities.
2015 will be a year of courage.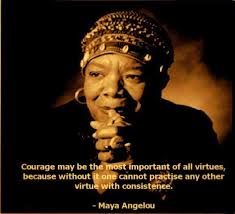 What is your intention for 2015? I'd love to share your energy – leave a comment on what you're looking for 2015.