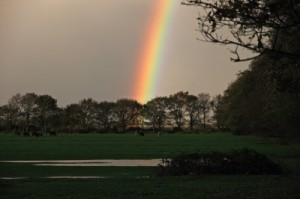 "The great teachings unanimously emphasize that all the peace, wisdom and joy in the universe are already within us; we don't have to gain, develop, or attain them. We're like a child standing in a beautiful park with his eyes shut tight, there's no need to imagine trees, flowers, deer, birds, and sky; we merely need to open our eyes and realize what is already here, who we already are – as soon as we stop pretending we're small or unholy."
This quote reminds me of the scene from 'The Wizard of Oz', when Dorothy, having survived the tornado of her life, wakes up and sees all that she has around her.   Things she previously worried about, people she loved, and those she feared had swirled together in her mind to create the most unimaginable drama, but when it came down to it, there was no place like home.
Many times throughout my teaching day I find myself cheering on my students, telling them, "You are better than this. You are better than these grades."  I think about how they must feel, lost in a world that judges them by accomplishment rather than individualism.  I wonder how I can teach them to close their eyes, to look inside, and realize that they, like Dorothy, have all they need in life. They just need to figure out how to harness it, how to jump on the power and energy and wonderfulness that life has to offer them, and soar above anything they have ever imagined.
I think if we can teach teenagers this – to stop pretending they are 'small or unholy' – that they not only have a huge future ahead of them, and that they have all they need to get there – if we can help them see the joy of life, we can create hope that somewhere over the rainbow really is right in their own backyard.
image courtesy of freedigitalphotos.net
Related articles