"As you get older, the questions come down to about two or three. How long? And what do I do with the time I've got left?"
David Bowie, dead? It can't be possible.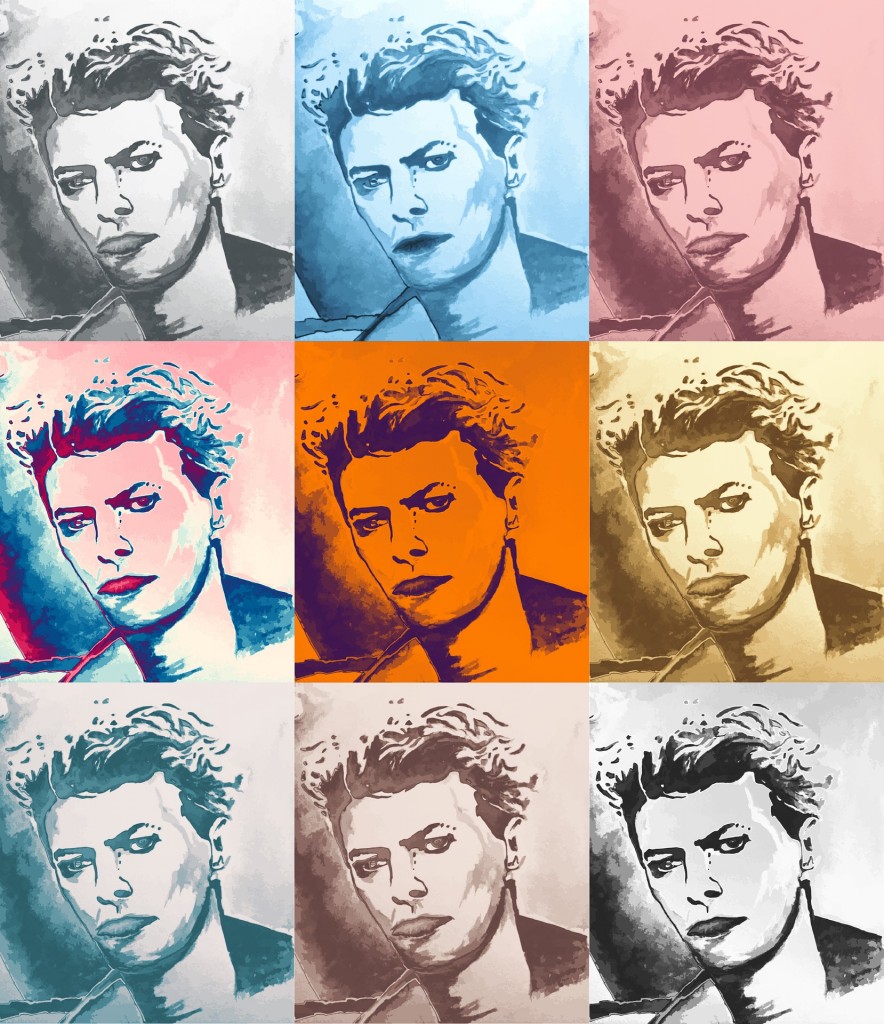 I remember when I was young, kids would wonder who would come to their own funeral. It was a way of sussing out our place in the world, of trying to see beyond the exterior veneer and posturing so popular with young people. It was a way of finding our relevance before most of us had actually done anything relevant except to just be a living human.
This self-centered sort of reflection seems to dissipate as we age – many of us, as we become parents and watch decades of life pass by, begin to reflect on just more than how other people would react to our passing – we instead study the intricate balance between where we belong, where we are, and where we want/need/would like to be in this vast Universe.
Death has a way of forcing such reflection front and center, doesn't it?
I spend so much of my time living up inside my head, thinking deeply and with my reading and writing attempting the unsurmountable task of deciphering where we are in the world – where I am in this vast universe. I watch the beginnings and endings of my lifetime with a mix of apprehension and dismay, knowing that it at the edges of life when I often feel the most deeply, yet find the most discomfort. I crave the middle, the solid surface beneath my feet, the sure path towards…well, joy, I guess.
This month has overwhelmed me with endings, sadness, introspection. I've felt as if with the turn of 2016, the Universe has collected in its arms the souls it needs, and I'm just waiting…
First there was Bowie; so long the soundtrack of my youth, his presence in our world will be missed. Of course, I didn't know him, but through his music and his art, I felt connected, as if his contribution to the Universe was perpetual, something solid, steadfast, unchangeable.
On my first trip to New York City last July, I took an open-air sightseeing bus – one of those complete tourist attractions that allow newbies like me to get a glimpse of NYC all at once. I was overwhelmed, to say the least.
One moment that sticks with me amidst the swirls and scents of the vibrancy of the city is when the tour guide gestured towards a huge building and announced that was Bowie's home. I felt surprised that he both knew where it was and would share it with us – it felt intrusive and presumptuous and wrong to be so public with something so private.
Our homes are our safe sanctuaries, after all.
I didn't pursue a glimpse of the man I've admired since childhood – didn't even think to snap a photo of it, instead choosing to slip into the maze of Central Park to carve out solitude.
Since Bowie's death, I've been intrigued to find out how simply he, despite his superstar status, was able to live so unpretentiously. How does a man of his notoriety become invisible?
Purposefully, I imagine.
Bowie lived the balance. Knowing he was not indestructible, that the sureness of death was to come, he carved out where he wanted to be on his own terms. He, with all his fame and recognition, dug deep inside and birthed a gift to the Universe as he was dying. What an act of courage, of selflessness, of living. Of relevance.
I was shocked to find out he was 69, but not surprised at all when I heard his latest album. And his lyrics- what a gift to those of us searching for ways to gather together the edges of life and death, to think deeply of our existence and seam together the beginnings and endings with grace and courage.
The man who fell to earth wasn't afraid of us watching his descent – no, not Bowie. He just wasn't willing to let us watch.
I find it beautiful to think that in his last moments, he was where he belonged, with the people who needed to be there. He left his legacy to us with his last production, Blackstar, sewing together his life and death with threaded with certainty and stitched into a seamless, endless whole.
How long? And what do we do with the time we've got left?
May we all be as victorious in the end.