My 7th graders have been exploring perceptions and reality using thinking routines. We started out with a 3-2-1.
Have you heard of thinking routines before?
Thinking routines take all sorts of forms – and while they're not all necessarily digital, I love using Ed-tech tools to help students make their thinking visible.
This 3-2-1 thinking routine template was originally made by the masterfully creative Heather Marshall. I've adapted it several times over the years to match the learning outcomes my students are working on.
You can get a copy of my Perception and Reality 3-2-1 Thinking routine here.
How thinking routines work
In my class, I'm a fan of building engagement through curiosity and exploration of a topic BEFORE I do any sort of instruction.
When students 'buy in' to the topic/concept with exploration (have you seen my posts on HyperDocs?) energy just starts to flow all over the classroom.
We started our latest unit of study with a MMTS ( I shared a post about that here). Next, we followed up with a more directed 3-2-1 thinking routine which focused on our next mini-unit on meeting our pen pals from Spain, letter writing, commas, adjectives, and communication skills.
Using this thinking routine feels a little bit like lifting the cover off of a new sculpture or work of art. The students understand bit by bit and by the time they have written their 'bridge' statement, they are DYING to get started!
We began with a topic: kids from Spain/kids who don't speak English. Next, my students wrote three ideas they immediately bring to mind on that topic, two questions, and one analogy. The analogies are the hardest part for sure. The cool thing is that they just keep getting better with the repetition!
Next, we explored the topic by reading personal letters from our pen pals in Spain. My 7th graders were absolutely GIDDY with excitement! Many immediately wanted to know if they could continue to write to them AFTER the assignment was over. When does that ever happen?
On a side note – I connected with a teacher in Madrid through my work with TGC and the Fulbright program that took me to Indonesia in 2012, but there are other ways to find global pen pals.
The next step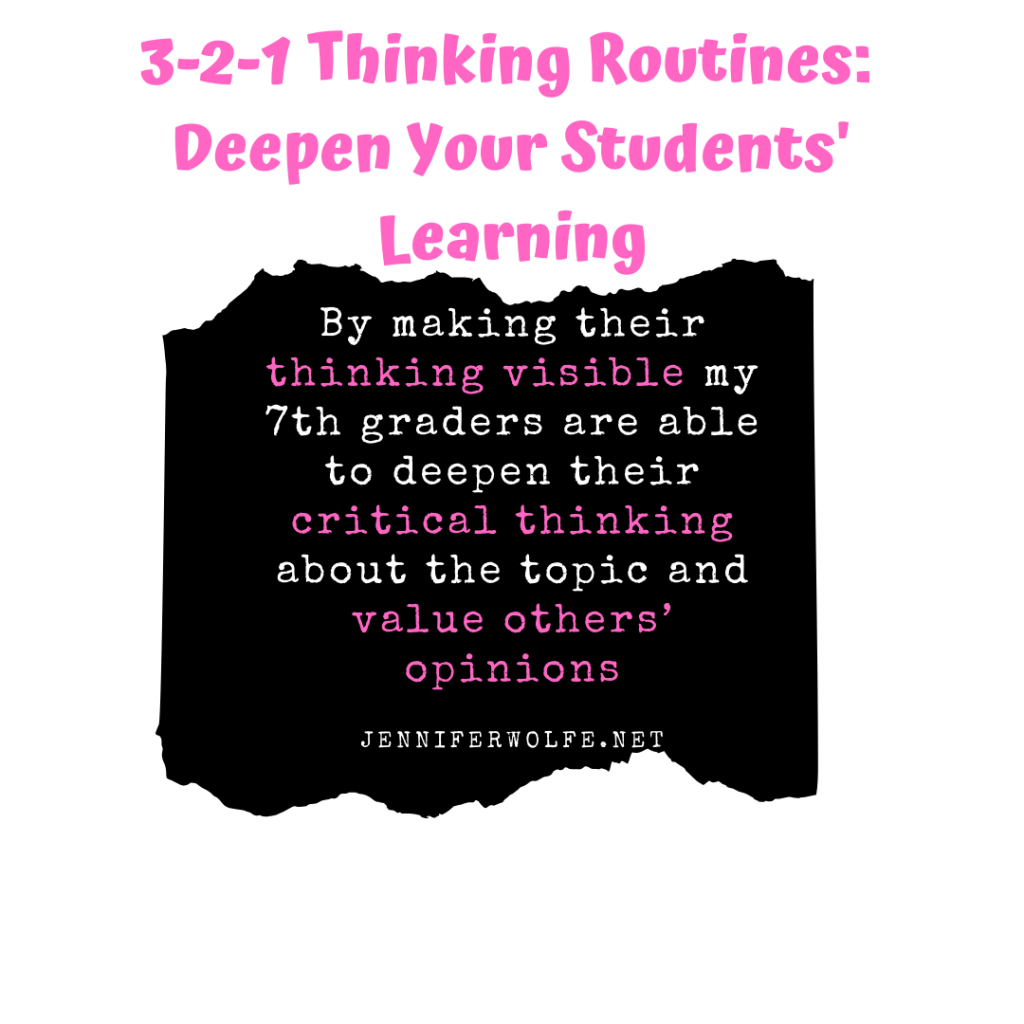 Then, it was back to the 3-2-1 for one more repetition of thoughts, questions, and analogies. This time my students were more directed towards the pen pal they 'met' through their letters. They were 100% more invested in their questions, as they knew the next task was to respond to the letters and add their own inquiries!
Then, my 7th graders eagerly began their letter writing. Many of my students are bilingual, and asked if they could write in Spanish – how cool is that? The class discussions were on fire – kids sharing what their pen pal wrote, laughter at the commonalities between Davis and Spain. They were in awe over discovering the Spanish school had a pool (of course, we searched their website, too). They had an overall joyful spirit of excitement and connection. And on top of it all, they were writing with an authentic, genuine purpose.
After their letters were completed, it was back to the 3-2-1 for one more repetition of thoughts, questions, and analogies. But this time, we utilized tech tools to make their thinking visible. Answergarden helped share their thoughts. We documented our questions on Google classroom, allowing kids to earn a different perspective on ALL the pen pals.
The final step to the 3-2-1 thinking routine is the bridge. Students complete this statement: "I used to think ________________, but now I think __________. By using Padlet, all my students could share their perspectives and comment to each other. Their understanding of the topic took off!
Why thinking routines are so amazing
To me, using these tech tools makes ALL the difference. Instead of continuing to hold only their own perspective, by making their thinking visible my 7th graders are able to deepen their critical thinking about the topic. It's a beautiful way to learn to value others' opinions.
As of today, we have sent our letters to Madrid. The next rotation will involve actually 'seeing' our friends via video communication! I hope you follow along to see the next steps in our exciting global classroom experience!