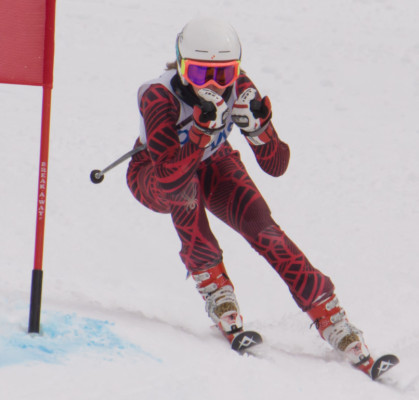 I sat on the boot room floor early this morning, legs curled up in front of me, watching her get ready for her ski race. In between giggles with her friends and  thumping on red, white and leopard print ski boots (she is my daughter, after all), she stopped and said, "You look like me right now. Curled up on the floor-that's something I would do."
I smiled, and thought that for the first time she has actually compared herself to me. I took it as a compliment. So rarely do I think she is anything like me at all.
So much of her life is foreign to me. Her teenage experience moves her in a world I knew nothing about at sixteen. As connected to high school as she is, I couldn't have been further from. As much as she loves her friends, socializing, proms and rooting at football, lacrosse and basketball games, I didn't. For her, high school is a time to be cherished; for me, it was a time I couldn't wait to dispose of.
At sixteen I felt powerless. My parents told me I never worked to my potential, never used my intellect in a measurable manner.  I didn't even have the internet to blame for my lack of attention to school. I just simply wasn't motivated. I remember being preoccupied with boys and dating, music, and not much else. For me, sports ended with the onset of puberty; I chose instead part-time jobs, limited class time, and had absolutely no vision of life in the future. And the funny part is that I don't remember it really worrying me all that much.
At sixteen my daughter exudes girl power. She has everything that I didn't, and I am in awe of her. Choosing a sport like ski racing has taught her how to accept victory and defeat, how to push her body and mind to the extreme, and she has found that instead of focusing on boys, she can pass them by on the race course.
She holds the power in her life-in the places where real power exists. Not in the alluring eyes and smooth foundation-laden skin of my youth, but in the powerful thighs, bruised biceps, and complete control she relies in to propel her down the course. She has learned to be soft and tough, as confident slipping on a revealing skin-tight speed suit as a chunky pair of sweatpants.
In sixteen years she's learned the power of good friends; those girls who will stand by her, make her laugh until she hiccups, and hold her when she needs support. She knows the power of her convictions, for making the hard choices when it's the right thing to do, and accepting her mistakes as they come.
She laughs, cries, and feels the frustration I remember from being sixteen. Except she looks at the future before her and knows that she will be ok. She knows she won't have to wait until her forties until she finds her passion;
rather, she knows her passion will take her where she wants to go. Girl power.
As I spend another Sunday on the ski hill, safely nestled into a writing chair, I can't help but smile at my girl. Her long cinnamon colored hair in a messy braid, her cheeks flushed with excitement, and surrounded by friends, my heart swells. Sixteen years and powerful. I can hardly wait to see what she does next.
Related articles