Greetings from St. Louis! I'm presenting about recapturing the love of teaching at NCTE17 today!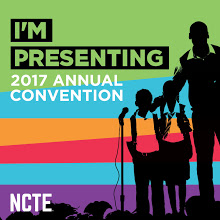 Since starting my blog in 2011, my life is so different!
I've been on adventures around the country and the world. I've met amazing writers and educators. I've been published on websites, in books, and in magazines. I've even been on TV!
Today I'm presenting at #NCTE17 with two women I met through blogging – Riina Hirsch and Katie Sluiter. We'll be presenting on how social media and blogging helped us recapture our love of teaching at 11:00 in St. Louis – if you're at NCTE, please message me, stop by the presentation, or comment back and connect!
Click HERE to view our Recapturing The Love Of Teaching presentation.
If you're at home, please take a look at our presentation – we'll share our blogging stories, some teaching anecdotes, and a bonus presentation on setting up a blog for your classroom and your students – links are included so you can do it from home!
Sending you all my gratitude and thankfulness to my awesome mamawolfe community – you mean the world to me.
~Jennifer