When I first became a teacher 30 years ago, I knew my true self wouldn't be 100% acceptable in mainstream public education. Suddenly I became 'Miss Mason', someone who instantly became an adult around children not all that much younger than myself. Definitely not what we would call anti-racist teaching today; that part of my self was shadowed as I set about doing what was expected.
I knew that my days of extremes were over. The jet black hair was artfully shaved and teased. Dark eye-liner, perfectly powdered skin, and personal statements adorning my body were no longer acceptable in my chosen profession.
The days of twenty-something expression of individuality – let alone political beliefs – were shelved. That's a huge reason why I chose NOT to teach in my hometown; the idea of 24/7 censorship terrified me. I thought anti-racist teaching was impossible.
Slowly, though, I got used to doing what I should do.
Doing what I thought I should do as an English teacher, one mask replaced another. Teaching days became years. It was easy to fall into teaching reading strategies, traditional white male texts, journaling, book reports, reading logs…I was doing a great job teaching the content of English.
Just not so great at being myself.
And I did a good job. Kudos came my way: awards, great relationships with students. Marriage. Motherhood. Maturity. All the parts of life that are supposed to add depth and shape us into who we were meant to be.
Slivers of my real self slipped out occasionally, followed by sleepless nights. You know, the kind of teacher nightmares we have when we think we might have accidentally said something controversial? That anxiety of waiting to be called in, to listen to a parent complaint that teachers shouldn't be saying those kinds of things in the classroom…
And then…2017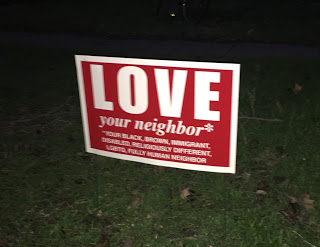 One day in early 2017 one of my young UCD AVID tutors, "L", pulled me aside and whispered, "I'm really sorry Mrs. Wolfe, but I can't work here anymore. I have to lay low. I'm DACA, and I can't do anything that might impact my enrollment here. I've got to go back home."
I remember my shock, my confusion, and my anger as I looked into her eyes. "L" was a few years older than my own daughter, but she was Mexican, first-generation, and mine was white, from college-educated parents.
My daughter wasn't feeling the need to go into hiding to save her education.
My daughter wasn't moving back home, giving up her job, her friends, her life because of her ethnicity.
But "L" was. And I realized that staying silent in the classroom wasn't going to change anything. Avoiding anti-racist teaching wasn't going to create equity, or help someone else's daughter or son. Teaching is a political act. Education is a political issue. And no longer was it a question of should I speak my truth – but I must.
"Just do right'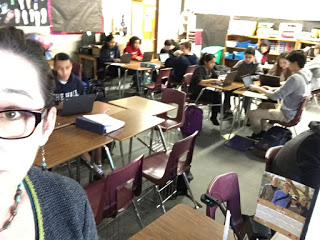 "Just do right", Maya Angelou told us. But what does 'doing right' look like in education when it comes to anti-racist teaching? The last four years have shown America that whites must use their privilege to effect change. We must examine and change what we are teaching our children at home and in the classroom. Teachers must question if they have a job versus a platform for change, or if they teach for the money versus the opportunity to mold minds?
I must ask myself if I'm afraid of anti-racist teaching. My students aren't. They say, Why should we be afraid to talk about race? It just is.
So if we must talk and teach about it, why is it so hard to know where to start? And if kids aren't afraid, why are adults?
Look for the leaders
In the article 'America's schools are failing black people: When will education have its own #BlackLivesMatter movement?' the author S.E. Smith asserts:
Instead of confronting racial and cultural divides, American education only serves to further them. Racial division is an inescapable fact of primary and post-secondary education itself, thanks to huge gaps in education quality that are closely tied to race and socioeconomic status. Some of the nation's most underperforming schools are in primarily minority areas, reflecting the diminished opportunities for the nation's children of color. Moreover, students of all races and backgrounds are subject to wildly differing history curricula, with Southern students often instructed that the Civil War was a "War of Northern Aggression." Those distinctions matter.

Discussion of race in the U.S. varies across the board depending on regional and district policies, the inclinations of an individual school, and a teacher's personal approach. In a nation where some students learn about the civil rights movement and church burnings in detail, while others complete units in history class where slaves are treated as commodities just like cotton and sugar, race relations are going to be a serious problem.
So what are WE going to do about it?
Is it a question, finally, of should versus must? Is it even a choice?
Choosing must is a scary direction. It's the place that pushes us outside of ourselves, that opens us up to criticism and ostracism. It leads us to vulnerability, to hurt, to isolation. But not to silence.
Author Elle Luna says, "Must is different. Must is who we are, what we believe, and what we do when we are alone with our truest, most authentic self. It's that which calls to us most deeply. It's our convictions, our passions, our deepest held urges, and desires — unavoidable, undeniable, and inexplicable. Unlike Should, Must doesn't accept compromises.
Must is when we stop conforming to other people's ideals and start connecting to our own — and this allows us to cultivate our full potential as individuals. To choose Must is to say yes to hard work and constant effort, to say yes to a journey without a road map or guarantees, and in so doing, to say yes to what Joseph Campbell called "the experience of being alive, so that our life experiences on the purely physical plane will have resonance within our innermost being and reality so that we actually feel the rapture of being alive."
Choosing Must is the greatest thing we can do with our lives."
Teaching my truth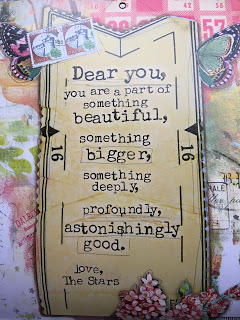 The greatest thing I can do with my life as an anti-racist teacher is to teach my truth. I can't hide behind worrying about what might happen when I step out of the shadow of expectation. Kids deserve to talk about racism, to hear their white teacher be honest about what is…and what could be. They deserve to hear the truth.
I must call it out and must be intentional about talking about books by BIPOC. Teachers must prod students' thinking to make connections between what they read and write and what is…and what has been. We must teach about empathy, and justice, and equity.
I must be me, even when it's scary – even when it's easier to be someone else.