December….always a month full of contradictions for me. Try as I might to keep it simple, stay centered and enjoy the moment, I must admit that it often pushes me to my limits. There are still a few things that I loved this December; I hope you enjoy them, too.
Best View:
As much time as I spend outdoors, I struggle to capture the perfect sunrise, sunset or moonscape. This month I focused on looking up, literally a and figuratively. I love this image that I captured one night as I was walking home from a late work meeting. It was definitely the best part of my day!
Best Recipes: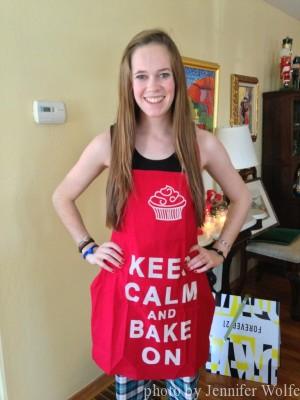 My daughter was on a baking frenzy this month…it went far beyond her ritual Wednesday afternoon baking sessions, and morphed into marathons of molasses cookies during finals week, intricately decorated sugar cookies, Mexican Wedding Cakes, loads and loads of peppermint bark, peanut butter balls, and delicious cream cheese frosted Candy Cane Kisses bars. I managed to squeeze in a new recipe for Saltine Toffee…I know, I thought it was weird too until I tried it!
Best Book:
Sad to say, I didn't finish a book in its entirety this month. I've started several, and am in the midst of six…I'm currently enjoying Happier At Home by Gretchen Rubin . She's the writer who published The Happiness Project, and with this book she's looking at how to "kiss more, jump more, abandon self-control, and other experiments in everyday life." The chapters are organized by month, and cover topics like 'Possessions',Marriage", "Parenthood", and "Family". I'll let you know what I think when I finally finish it!
Best Blog Reads:
"The Map", was written by my friend and neighbor Beth, who writes with such honesty about the journey of parenthood. Please do yourself a favor and click over to her blog, "Grace in the Ordinary". http://grace-in-the-ordinary.blogspot.com/2013/12/the-map.html.
The holiday season brings out all sorts of emotions. This year, I experienced my version of the blues, but when I read "Some Times", by Progressive Parent, I couldn't help the tears for all that she's going through dealing with the loss of her child. Just feel her grief…http://theprogressiveparent.org/2013/12/14/some-times/.
Best Moment:
This month was full of elation and a bit of despair, change and (modified) tradition. I tried to hold it all together, keeping Christmas as it always has been, but finally gave in and realized we'd just be having a different kind of Christmas. One of my best moments came on Christmas Eve, as we breathlessly scurried (late) into the pew of our church, just in time for the candlelight service. I cherish the moments when I can wrap myself between my children, breathe down to my core, and feel a complete sense of peace and security. Turns out, it's one of my kids' favorite moments of Christmas, too.
Best Quotes:
Looking back at the quotes I save each month, I always get a surprising sense of cohesion-even when my month has felt less than connected. For me, December was about change, reflection, quiet, emotion and reaching out…
"Our dilemma is that we hate change and love it at the same time; what we really want is for things to remain the same but get better."
~Sydney J. Harris
"And the day came when the risk it took to remain tight inside the bud was more painful than the risk it took to blossom."
~Anais Nin
"I live my life in widening circles that reach out across the world."
Best Photo:
This photo just squeaked in at the last minute, lovingly posted by my 'little' sister post-Christmas. I love the reminder that there were days when we didn't mind looking alike – of course, this is long before my mother lifted the ban on us wearing all-black! Thanks, sis.
Thanks for sharing My Best December, 2013. I hope your month concludes on a peaceful note, and I look forward to an amazing adventure with you in 2014!
~Jennifer
Related articles